Marine Parks and Marine Ecological Resources Public Seminar 2017
This department will organize a series of seminars on Marine Parks and Marine Ecological Resources in July and August 2017 at Hong Kong Cultural Centre.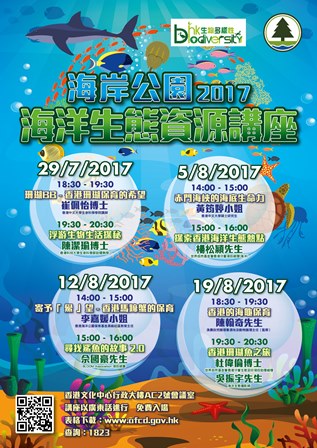 Date

Speaker

Topic

29/07/2017

18:30 - 20:30

Dr. Chui Pui Yi, Apple

Growing Baby Corals - A Long-term Commitment to Hong Kong Coral Conservation

Dr. Chan Kit Yu, Karen

The Secret Lives of Plankton

05/08/2017

14:00 - 16:00

Miss Wong Kwan Ting, Zoe

The Underwater Life of Tolo Channel

Mr. Yeung Chung Wing, Patrick

Exploring the Marine Ecologival Hotspots of Hong Kong

12/08/2017

14:00 - 16:00

Miss Candy Lee

Conservation of Horseshoe Crabs in Hong Kong

Mr. Shea Kwok Ho, Stan

Importance of Hong Kong in Global Shark Fin Trade: Update & Status

19/08/2017

18:30 - 20:30

Mr. Chan Hon Ki

Conservation of Sea Turtles in Hong Kong

Dr. Allen To

Mr. John Ng

A Journey to the World of Hong Kong Reef Fishes
1. Download the reservation form or

call 1823 to receive the reservation form by fax

2. Submit the reservation form by post, email or fax to

6th Floor, Cheung Sha Wan Road, Kowloon, Hong Kong

(Attention: Marine Parks Education Officer)

Fax No: 2152 0060

Email: marineparks@afcd.gov.hk

3. Successful applicants will receive confirmation email.
Venue: Room AC2, 4/F Administration Building, Hong Kong Cultutral Centre

The seminar will be conducted in Cantonese with free admission

For enquiry: 1823