What can we do to protect the coral communities/reefs?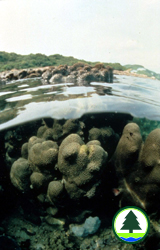 Coral community in
Hoi Ha Wan
First of all, try the best to protect the environment from your daily life. Apply the 3R principle - Reduce pollution (e.g. use less plastic bags), Reuse and Recycle the resources (e.g. scrap papers, plastic bottles and soft drink cans).
When you are appreciating the beauty and diversity of marine life, remember the marine code - do not touch, disturb or collect corals and other marine life.
Respect right of living. Try not to rear or buy reef organisms.