Can all corals build reefs?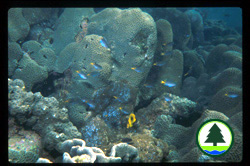 Hermatypic Corals at Port Island
Those have symbiotic algae (zooxanthellae) within their cells can build reef, i.e. reef-building corals or hermatypic corals.

Other organisms, such as bryozoans, coralline red algae, green calcarious algae, some molluscs and worms, etc. can also accumulate carbonate skeletons. Since the structure of coral skeletons is fairly loose, integration with other organisms is required to form a sturdy reef.