Ngong Ping Nature Centre
Ngong Ping Nature Centre
Ngong Ping Nature Centre is temporarily closed for renovation work from 04 January 2021 until further notice. Sorry for any inconvenience caused.

Opening Hour:
10:00 am - 6:00 pm on Monday to Friday
9:00 am - 6:30 pm on Saturday, Sunday & Public holidays
Introduction:
Hong Kong has a total Country Park areas of 43394 ha, of which 10200 ha is covered by the Country Parks on Lantau Island, representing nearly 40% of all Country Parks of Hong Kong. With the increasing role of Lantau as a tourism hub of Hong Kong, Lantau has become an ideal place for promoting the unique and scenic countryside of Hong Kong to the overseas visitors as well as the locals. In view of this and to tie in with the Lantau Concept Plan, the Agriculture, Fisheries and Conservation Department has established the Ngong Ping Nature Centre in the Ngong Ping Village to provide visitors with countryside and hiking information, and further promote the nature tourism in Hong Kong.
Education Programme:
Public Guided Tours
Exhibits include:
History of Lantau
Biodiversity of Lantau
Hiking information of Lantau
Guided tour:
Ngong Ping Nature Centre provides a guided tour of running through many famous scenic spots and tree walks to Wisdom Path. Tourists can enjoy fascinating wonders throughout the journey and learn about the native trees of Hong Kong.



Please visit the web site of "Nature in Touch" Country Park Education Programme for details.
Barrier-free Facilities:
This Centre provides the following barrier-free facilities

Barrier-free access
The walkway in the Centre is level and the entrance provides sufficient width for the access of wheelchair.


Enquiry:
2259 3916
How to go :
Visitors can take the MTR Tung Chung Line or Airport Express to Tung Chung in Lantau. Take the Ngong Ping cable car or NLB services to Ngong Ping Village.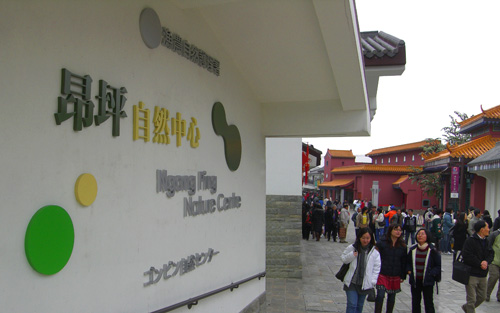 Ngong Ping Nature Centre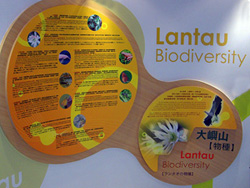 The exhibition panel inside the Ngong Ping Nature Centre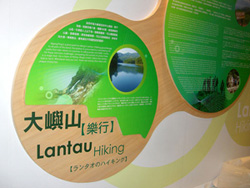 The exhibition panel inside the Ngong Ping Nature Centre