Prevent Hill Fire
PROTECT OUR COUNTRYSIDE  PREVENT HILL FIRE

Main Causes of Hill Fires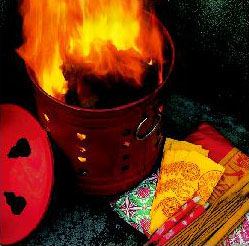 Be care of fire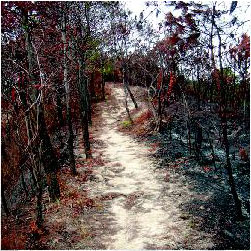 Disasters Brought by Hill Fires
 Grave sweepers not extinguished joss sticks and paper.

 People barbequing or cooking outside designated places.

 Fires out of control when farmers burn grasses and litter.
Why Hill Fires Occur
In autumn and winter when the humidity is low and rainfall is scarce, vegetation in the countryside becomes dry and hill fires often occur in these seasons. Every year, weeds and grasses grow vigorously in the wet summer season causing a great deal of fuel accumulation for the coming dry season. The countryside is therefore prone to high fire risk. Although fires occur in natural environments, almost all are caused by human negligence.

Disasters Brought by Hill Fires
In Hong Kong, hill fires are the enemy of nature. They destroy ecological environments, such as grasslands, shrublands and plantations. They also kill wild animals and destroy their habitats. Hill fires, having burnt off the vegetation cover, also cause soil erosion. And, in some cases, hill fires threaten human property and life.
Hill fires occur most frequently during two grave sweeping festivals. For example, on the Chung Yeung Festival day, more than 120 hill fires may occur. In December 2004, a major hill fire in Pat Sin Leng Country Park lasted for 34 hours destroying some 11,000 trees across 105 hectares.
With greater public understanding, the frequency of hill fires in the Country Parks has dropped significantly – from more than 300 to about 40 in the last two decades. However, the public's continuing support, understanding and vigilance are needed to further reduce the damage from hill fires.

Fire Suppression in the Country Parks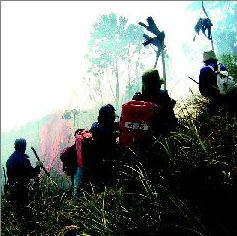 Fire Suppression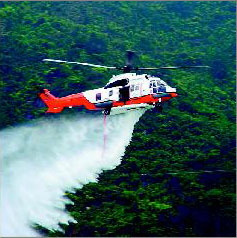 Government Flying Services
During fire season from October to April, AFCD fire crews are on duty around the clock, to detect and fight hill fires within Country Parks.
AFCD fire fighters are equipped with fire beaters, backpack pumps and other equipments for fire fighting. If required, members of the Fire Services Department and Civil Aid Services will join the fire fighting. The Government Flying Services also assists through water bombing, air trooping and reconnaissance in the control of hill fires.

Fire Prevention in the Country Parks
AFCD has established many barbeque sites in all Country Parks for public use. Fire breaks, water tanks, fire lookouts and other facilities have been constructed to prevent the spreading of hill fires.
The government has also launched numerous publicity programmes through school talks, the media, village visits, posters and other means to educate the public about the prevention of hill fires.
Fire Danger Warning signs are erected in all Country Parks to alert the public the existing fire risk on the day.
The public should take note, prior to countryside outings, of Fire Danger Warnings issued by Hong Kong Observatory. These are broadcasted by television and radio.
The Fire Danger Warnings are:
Yellow Fire Danger Warning – the fire risk is high.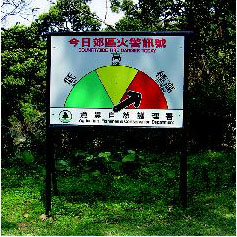 The Fire Danger Warnings Signal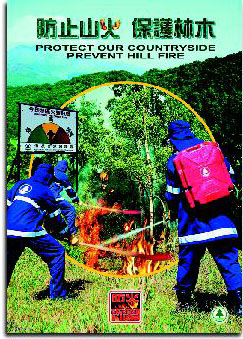 Protect our countryside, Prevent Hill Fire 
Red Fire Danger Warning – the fire risk is extreme.
When visiting the countryside, the public should take appropriate fire precautions according to the fire danger warning issued.

Except in designated places, no person is allowed to light or use fire in the countryside areas

Laws and Enforcement

Forest and Countryside Ordinance (Cap. 96)
Country Parks and Special Areas Regulations (Cap. 208A)
Any person who lights or Uses fire in the countryside illegally is liable to a fine of $25,000 and 1 year imprisonment.

How You Can Prevent Hill Fires
Only light campfires in the designated places.

Don't throw away burning matches or cigarette ends.

Don't light fire balloon. It will destroy our woodland and also threaten life and property.

During grave sweeping, remove weeds around the grave by hand-tools, burn joss sticks and paper only in containers

Never burn rubbish, weeds or grasses.

The Yellow or Red Fire Danger Warning signal indicates the fire outbreak is high or extreme. Extra care should be exercised to prevent hill fires.

If you see a hill fire, leave the fire scene immediately, and then ring 999 to report the fire.
What To Do If a Hill Fire Occurs
Keep calm and do not panic; slowly assess your situation.

Never try to extinguish a hill fire unless the fire is very small and you have a clear escape route.

Observe the direction in which the fire is spreading.

Avoid escaping in the same direction that the fire appears to be spreading.

Never run uphill to escape. This will consume your energy and the fire will burn faster uphill than you can go. Generally it is better to escape by going across the hill.

It is easier, faster and safer to escape along existing paths and routes.

Choose to run towards places with less vegetation.

Never run towards bushes or woodland, where hill fires spread faster and radiate higher heat.

If there is no obvious safe escape route and in extreme danger, cover your entire body with clothing; wrap your face with a towel or shirt. If you have water wet yourself. Then rush through the fire line into areas that are already burnt.