Pinewood Battery Heritage Trail
The Pinewood Battery Trail is located in Lung Fu Shan Country Park. The trail is about 0.4km long and starts at the entrance of the Picnic Area Site No.1 on Hatton Road. Along the trail, you will see the relics of the Pinewood Battery. Interpretative posters on site also introduce the history of the Battery.
As early as 1898, the British military authorities recommended a battery to be constructed on a hill 1,009 feet above sea level at the north-western part of the Hong Kong Island to strengthen the defence of the western approach of the harbour. Construction started in 1901 and completed in 1905. Located at 307m above sea level, Pinewood Battery was the highest of all the coastal defence batteries in Hong Kong. With the advent of air power following the First World War, Pinewood was converted into an anti-aircraft Battery. More battery buildings and bunkers were constructed around the Battery. During the Battle of Hong kong in December 1941, the Battery was air-raided and heavily shelled by Japanese artillery fire. The Battery was eventually evacuated. Pinewood Battery has remained abandoned after the War.
Today the Pinewood Battery has been converted into a picnic site, but the emplacements, battery buildings and command post are generally in good condition. The scars of war around the Battery that are still clearly visible stand witness to the Battle of Hong Kong.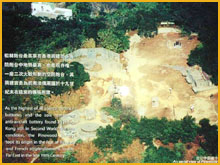 How to get there
Take bus no.13 to the junction between Kotewall Road and Hatton Road. Walk uphill along Hatton Road for about 1.5 km and you will reach the beginning of the trail. Alternatively, take bus no.15 or minibus no.1 or the Peak Tram to Victoria Peak. Walk along Harlech Road or Lugard Road to the junction with Hatton Road. Then walk downhill along Hatton Road and follow the signs that direct you to "Pinewood Battery".