Water quality monitoring
Water quality is an important factor affecting the productivity of mariculture operations in Hong Kong. This department conducts regular water quality monitoring at fish culture zones to check whether the environmental conditions are suitable for fish culture.
| | |
| --- | --- |
| | |
| | |
| Technical seminars for fish farmers on water quality monitoring and management are held regularly. | |
Red tide management
To minimise the impact of red tide on mariculture, this department is implementing a long term phytoplankton monitoring programme. In order to provide early warning to mariculturists, we now conduct weekly sampling from 6 core fish culture zones, fortnightly from another 5 fish culture zones and 5 offshore stations and the remaining 15 fish culture zones will be sampled every 3 months to detect the presence of harmful algae and development of red tides.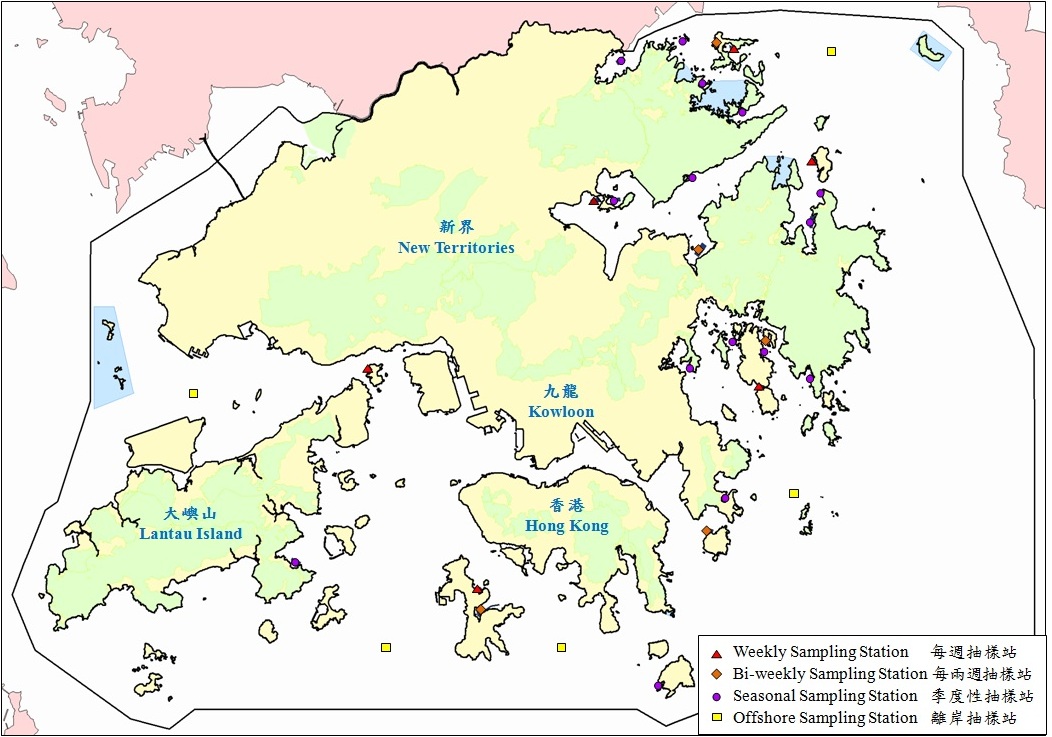 Click here to see the stations.
An outreach team has also been established to provide rapid responses to red tide/harmful algal bloom (HAB) reports. We will find out which plankton species causes the red tide, estimate the area affected and assess the potential risk on mariculture. If the red tide occurs at or near fish culture zones, the concerned mariculturists will be alerted to take appropriate precautionary measures to guard against possible harmful effects caused by the red tide.
This department also serves as the coordinating center for red tide/HAB outbreaks, collecting and forwarding relevant information to other government departments involved in the management of red tide issue.
The latest red tide situation in Hong Kong waters will be updated every week on the Hong Kong Red Tide Information Network. You are welcome to visit the Hong Kong Red Tide Information Network (http://www.afcd.gov.hk/hkredtide_e/index.html) to obtain more information about red tide.
Impacts of development works
Assessment of potential environmental impact on aquaculture is required for development projects involving fish culture zones, fish ponds and oyster beds, in accordance with the Environmental Impact Assessment Ordinance (Cap. 499). Criteria and guidelines for fisheries impact assessment can be found in Annexes 9 and 17 of the Technical Memorandum on Environmental Impact Assessment Process.
The ex-gratia allowance is payable to mariculturists, pond fish farmers and oyster farmers who are adversely affected by development projects. The department assists in the administration of ex-gratia allowance payment by providing technical assistance in the assessment and professional advice.
Water quality monitoring frequency would be increased when there are development works that may affect fish culture zones nearby. Upon receipt of reports of fish kill or complaints of water quality changes, investigations will be carried out and advice on appropriate mitigatory measures to minimise loss will be provided to the fish farmers.
| | |
| --- | --- |
| | Telephone No. |
| Water Quality Monitoring at Fish Culture Zones | 2150 7084 |
| Report of Red Tide | 2150 7124 |
| Fisheries Impact Assessment | 2873 8341 |
| Ex-gratia Allowance | 2873 8341 |