Hok Tau Campsite
Hok Tau Campsite
Location:
Hok Tau, Pat Sin Leng Country Park
Campsite Category:
Medium (Remarks)
Accessibility:
Easy; for beginners
Introduction:
Situated at the northern slope of Shek Au Shan, the site is adjacent to the Hok Tau Reservoir. Apart from its picturesque environment, you are surrounded by luxuriant trees, songs of birds, fresh water stream which keep you cool in hot summer. The site features numerous routes connected with Sha Lo Tung or Lau Shui Heung Resevoir. You may also challenge nearby ranges such as Ping Fung Shan and Pat Sin Leng.
Facilities:
Barbeque pits, benches and tables, clotheslines, bathrooms and pavilions.
Hygienic facilities:
Flushing toilet with sinks
Source of water:
Tap
Highlights:
Hok Tau Reservoir Family Walk - It encloses Hok Tau Reservoir Country Trail and originally named Fung Ma Ancient trail. Apart from its idyllic environment, the charming path is flat and well-paved with big rocks. You may also walk past several streams and an experimental forest. The journey takes about an hour and is suitable for families.
Country trails:
Hok Tau Family Walk
Hok Tau Country Trail
Nam Chung Country Trail

How to get there:
Take Minibus No. 52B from Fanling MTR Station and get off at Hok Tau Tsuen Terminus. Stroll along Hok Tau Road towards Hok Tau Reservoir for 15 minutes.
Minibus telephone enquiry: 2669 0737
Remarks:
The campsites are categorized into 3 size classes with reference to the number of potential tent space which is estimated based on the approximate size of a 4-person tent and the required cooking space and access pathway for campers. This is for reference only.
Campsite category: Small / Medium / Large
Small: for category with less than 20 tent spaces.
Medium: for category with 20 – 50 tent spaces.
Large: for category with more than 50 tent spaces.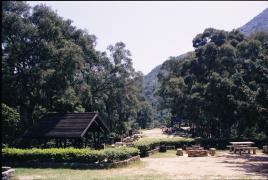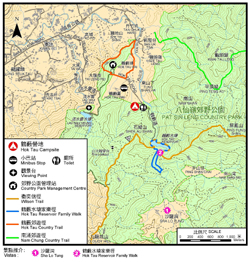 Map: Download

Viewing

pdf file format can be done through the use of the Adobe ® Acrobat ® Reader ® software which is available free at the Adobe Systems Incorporated website.