Sam A Chung Campsite
Sam A Chung Campsite
Location:
Sam A Chung, Plover Cove Country Park
Campsite Category:
Small (Remarks)
Accessibility:
Difficult; suitable for experienced hikers and campers
Introduction:
The site is situated on a small hill which is by the side of a stream, south of the Sam A Wan. It captures the picturesque view of Yan Chau Tong (Double Haven) consisting of three islands -Wong Wan Chau (Double Island), Ngo Mei Chau (Crescent Island) and Kat O Chau. A wide variety of landforms i.e. rock cliff, sand pits and geomorphologic features in the region create a unique and ideal spot to pitch a tent. There are also versatile fish and colourful coral species in front of the Sam A Wan water and coastal rock features is spectacular.
Facilities:
Barbeque pits, benches and tables, drains and clotheslines.
Hygienic facilities:
Dry toilet pits
Source of water:
Stream water (seasonal supply)
Highlights:
Lai Chi Wo - It is a traditional old Hakka walled village built more than 300 years ago. A Guan Di (God of War) temple is established to bless villagers. In front of the village is a mangrove habitat features millennium-long vegetations such as huge interlocked-branch trees, hollow tree, "five-finger camphor tree", etc.

Wu Kau Tang - It is one of the oldest villages in Taipo and has a history of 400 years. Originally named "Wu Kau Tin", it referred to an area made up with multiple villages - Lo Wai, Ho Pui, Leng Pui, San Uk Ha, Tin Sum and Sam Ka Tsuen.

Tiu Tang Lung -

How to get there:
Take Minbus 20R from Tai Po Market MTR Station to Wu Kau Tang or Bus 75K to Tai Mei Tuk Bus Terminus or Bus 275R on Sundays and statutory holidays to Bride's Pool Bus Terminal. Walk along the Bride's Pool Road towards Wu Kau Tang. Then ahead towards Sam A Tsuen along the Wu Kau Tang country trail. The walk takes about an hour.
Minibus telephone enquiries: 2873 6808
Remarks:
The campsites are categorized into 3 size classes with reference to the number of potential tent space which is estimated based on the approximate size of a 4-person tent and the required cooking space and access pathway for campers. This is for reference only.
Campsite category: Small / Medium / Large
Small: for category with less than 20 tent spaces.
Medium: for category with 20 – 50 tent spaces.
Large: for category with more than 50 tent spaces.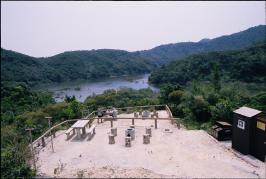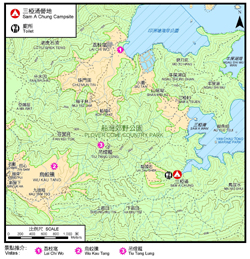 Map: Download

Viewing

pdf file format can be done through the use of the Adobe ® Acrobat ® Reader ® software which is available free at the Adobe Systems Incorporated website.