Wan Tsai West Campsite
Wan Tsai West Campsite
Location:
Wan Tsai Peninsula West, Sai Kung West Country Park ( Wan Tsai Extension )
Campsite Category:
Large (Remarks)
Accessibility:
Easy; for beginners
Introduction:
Wan Tsai Peninsula lies at the north-west of Long Harbour. The campsite is situated in the southwestern side of the peninsula, adjacent to Hoi Ha Wan Marine Park. The site is spaciously designed with ample facilities. It is renowned for starry nights as well as its simple pleasant environment and picturesque scenery.
Facilities:
Pavilions, barbeque pits, benches and tables
Hygienic facilities:
Large-scale bathing and toilet facilities (similar setup for handicapped users)
Source of water:
Tap
Highlights:
Hoi Ha Wan Marine Park - Established in July of 1996, it is the first marine park in Hong Kong. There are various mangroves, over 60 stony coral species and 120 reef fish species recorded in this 260-hectare marine park. Other marine animals such as starfish and jellyfish are also found.
Country trails:
Wan Tsai Orienteering Trail
How to get there:

Method 1:
From Sai Kung Bus Terminal take Bus 94 or Bus 96R at Diamond Hill MTR Bus Terminal on Saturday, Sundays and statutory holidays. Get off at the Wong Shek Terminus. Then hop onto the Wan Tsai-bound ferry at Wong Shek Pier. From Wan Tsai Pier, a 5-minute walk on stony path takes one to the campsite.

Method 2:
From Sai Kung, take Minibus 7 and descend at Hoi Ha Village. Then, follow the Tai Tan Country Trail and walk for about 45 minutes.

Remarks:
The campsites are categorized into 3 size classes with reference to the number of potential tent space which is estimated based on the approximate size of a 4-person tent and the required cooking space and access pathway for campers. This is for reference only.
Campsite category: Small / Medium / Large
Small: for category with less than 20 tent spaces.
Medium: for category with 20 – 50 tent spaces.
Large: for category with more than 50 tent spaces.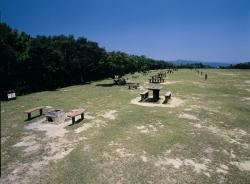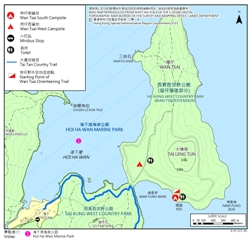 Map: Download
Viewing

pdf file format can be done through the use of the Adobe ® Acrobat ® Reader ® software which is available free at the Adobe Systems Incorporated website.