Sai Wan Campsite
Sai Wan Campsite
Location:
Sai Wan, Sai Kung East Country Park (Tai Long Sai Wan)
Campsite Category:
Large (Remarks)
Accessibility:
Difficult; suitable for experienced hikers and campers
Introduction:
The site is at Tai Long Sai Wan, which is one of the best scenic spots in Sai Kung East Country Park. It is located on the northern beach of Sai Wan just adjacent to the second stage of MacLehose Trail. At the camp site, visitors can enjoy the panoramic view along the beach and the break-taking view of the off-shore islands. At dawn, a peek out of the tent flaps will garner a beautiful sunrise from the ocean-lined horizon.
Attention: Campers have to aware of high tide on the beach. The southern beach (next to the restaurants) is not opened for camping).
Facilities:
barbeque pits
Hygienic facilities:
Flushing toilets and sinks
Source of water:
Tap
Highlights:

Tai Long Sai Wan - It used to be a typhoon shelter for fishing boats but the High Island Reservoir project blocked the shortcut channel . Sai Wan Village is a hotspot for hiking and along the Stage Two of MacLehose Trail. So there are several stores open to provide supplies for hikers.

Sheung Luk Stream - It is one of the biggest stream in Hong Kong and features numerous beautiful falls and pools along the stream.

Country trails:
MacLehose Trail - Stage 2
How to get there:
Take Minibus 29R from Sai Kung town and alight at the Sai Wan Pavilion termainal. Follow the signposts and paths directed to Sai Wan Village, which takes an hour to arrive. Then, trace back the MacLehose trail and go 5 minutes further to the northern beach of Sai Wan and you will be there.
Remarks:
The campsites are categorized into 3 size classes with reference to the number of potential tent space which is estimated based on the approximate size of a 4-person tent and the required cooking space and access pathway for campers. This is for reference only.
Campsite category: Small / Medium / Large
Small: for category with less than 20 tent spaces.
Medium: for category with 20 – 50 tent spaces.
Large: for category with more than 50 tent spaces.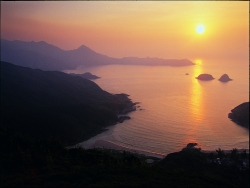 Map: Download

Viewing

pdf file format can be done through the use of the Adobe ® Acrobat ® Reader ® software which is available free at the Adobe Systems Incorporated website.