Long Ke Wan Campsite
Long Ke Wan Campsite
Location:
Long Ke Wan, Sai Kung East Country Park (Long Ke Beach)
Campsite Category:
Small (Remarks)
Accessibility:
Difficult; suitable for experienced hikers and campers
Introduction:
The campsite is situated beyond secluded Long Ke Wan. Pollution free, it is a long way from the city. Its silky sand and crystal clear water create a natural environment for the peace seeking camper. With a gentle sea breeze, one can stroll along Man Yee Road towards the site to be rewarded by a pleasant panoramic scene of High Island Reservoir.
Facilities:
Barbeque pits, benches and tables
Hygienic facilities:
Dry toilet pits
Source of water:
Stream water (seasonal supply)
Highlights:
Long Ke Wan - Apart from its silky sand beach, the Long Ke Treatment Centre is established in 1981 to provide drug rehabilitation services.
Country trails:
MacLehose Trail - Stage 2
How to get there:
From Sai Kung Bus Terminal take Bus 94, or take Bus 96R at the Diamond Hill MTR Bus Terminal on Sundays and statutory holidays or take Minibus 7 (Hoi Ha) at Sai Kung Town. Then get off at Pak Tam Chung stop. Follow the carriageway of the first stage of MacLehose Trail towards High Island Reservoir. You then walk along the Man Yee Road, which leads you to the West and East dam. Turn to on the roadside path marked towards Long Ke Wan. The journey will last about three hours.

Remarks:
The campsites are categorized into 3 size classes with reference to the number of potential tent space which is estimated based on the approximate size of a 4-person tent and the required cooking space and access pathway for campers. This is for reference only.
Campsite category: Small / Medium / Large
Small: for category with less than 20 tent spaces.
Medium: for category with 20 – 50 tent spaces.
Large: for category with more than 50 tent spaces.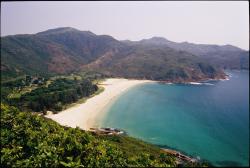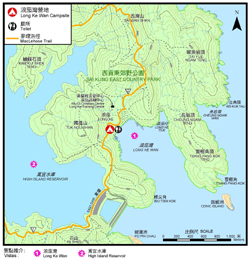 Map: Download

Viewing

pdf file format can be done through the use of the Adobe ® Acrobat ® Reader ® software which is available free at the Adobe Systems Incorporated website.