Rotary Park Campsite
Rotary Park Campsite
Location:
Rotary Park, Tai Mo Shan Country Park
Campsite Category:
Small (Remarks)
Accessibility:
Easy; for beginners
Introduction:
Set amid Tai Mo Shan Country Park Rotary Park Barbecue Site, this site is fairly close to Twisk Road. Campers can bask in the lovely scents of nearby flowers such as Aglaia Odorata, Sweet Osanthus Flower and Micchelia Figo. A barbeque site straddles the campsite providing spacious activity area. The viewing point is and ideal location to enjoy an open view of Tsuen Wan and Tsing Yi.
Facilities:
Barbeque pits, benches and tables and drains.
Hygienic facilities:
Flushing toilets and sinks
Source of water:
Tap
Highlights:
Tai Mo Shan Country Park Visitor Centre comprises an exhibition gallery and an activity room. The Exhibition Gallery is composed of six themes which introduce Tai Mo Shan Country Park, climate change in global and local perspectives, the effect of climate change in local forests, ecosystem and the effect of climate change at polar regions. The Centre is designed to provide a self-learning platform and foster public awareness of nature conservation.
Country trails:
"Hiking Practice Trail, Tai Mo Shan Family Walk, Twisk Nature Trail, MacLehose Trail - Stage 8 (towards Shing Mun Reservoir) and Stage 9 (towards Tuen Mun)
How to get there:
Take Bus 51 (Sheung Tsuen-bound) from Nina Tower Bus Terminus or the bus stop atop of the Tsuen Wan MTR station. Get off at bus stop "Tai Mo Shan Country Park" and walk for 5 minutes.
Remarks:
The campsites are categorized into 3 size classes with reference to the number of potential tent space which is estimated based on the approximate size of a 4-person tent and the required cooking space and access pathway for campers. This is for reference only.
Campsite category: Small / Medium / Large
Small: for category with less than 20 tent spaces.
Medium: for category with 20 – 50 tent spaces.
Large: for category with more than 50 tent spaces.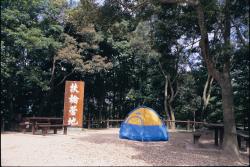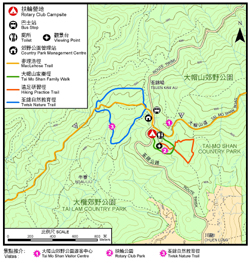 Map: Download

Viewing

pdf file format can be done through the use of the Adobe ® Acrobat ® Reader ® software which is available free at the Adobe Systems Incorporated website.