Ho Pui Campsite
Ho Pui Campsite
Location:
Ho Pui, Tai Lam Country Park
Campsite Category:
Small (Remarks)
Accessibility:
Easy; for beginners
Introduction:
The site is inside the Ho Pui Barbecue Site on top of a grassy hill. Bushy shrubs surround the transquil area and you can enjoy wide panoramas of traditional hamlets in Kam Tin and Pat Heung juxtaposed with modern infrastructure such as Route 3 and the North-west New Territories railway system. The Ho Pui Reservoir Family Walk circles the reservoir surrounded by a wooded hillside. A tranquil walk, it is well worth it to take a stroll with you family.
Facilities:
Barbeque pits, benches and tables, clothesline, drains and pavilion
Hygienic facilities:
Dry toilet pits and mobile toilets
Source of water:
Stream water (seasonal supply)
Highlights:
Ho Pui Reservoir: It was voted as one of the Ten Best Hong Kong Scenery Sports, the smallest reservoir is managed by Water Supplies Department. Apart from its fantastic vantage point atop of the reservoir, the water is used for irrigating agricultural lands in North-west New Territories.
How to get there:
Take Minibus No. 71 (Shek Wu Tong Ho Pui bound) from Yuen Long Tai Hang Street and get off at Ho Pui Tsuen Terminus. It is only a 30-minute walk from the village.
Remarks:
The campsites are categorized into 3 size classes with reference to the number of potential tent space which is estimated based on the approximate size of a 4-person tent and the required cooking space and access pathway for campers. This is for reference only.
Campsite category: Small / Medium / Large
Small: for category with less than 20 tent spaces.
Medium: for category with 20 – 50 tent spaces.
Large: for category with more than 50 tent spaces.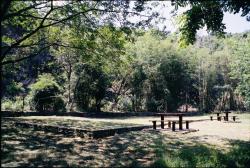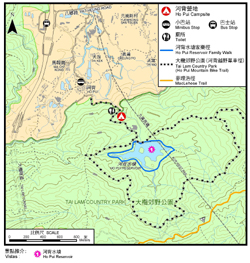 Map: Download

Viewing

pdf file format can be done through the use of the Adobe ® Acrobat ® Reader ® software which is available free at the Adobe Systems Incorporated website.