Nam Shan Campsite
Nam Shan Campsite
Location:
Nam Shan, Lantau South Country Park
Campsite Category:
Large (Remarks)
Accessibility:
Easy; for beginners
Introduction:
Situated at South Lantau Road, the extensive campsite is set amidst valley and woodland. With its tranquil environment and convenient transportation, it is also well-equipped.
Facilities:
Pavilion, barbeque pits, benches and tables, cloth lines, cooking places, camping platforms and bathrooms.
Hygienic facilities:
Flushing toilets with sinks
Source of water:
Tap
Highlights:

Nam Shan Barbeque Area - The largest barbeque area in Lantau Country Parks. Its extensive grassland accommodates more than 100 picnic goers.

Nam Shan Viewing Point - It is on a hill not far from the campsite and offers panoramic view of Mui Wo and Pui O Bay.

Country trails:
Lantau Trail Stage 1 and Stage 2
How to get there:
It is right next to Nam Shan bus stop.

Method 1:
From Tung Chung Town Centre, take Bus 3M and get off at Nam Shan.

Method 2:
From Mui Wo, all buses pass Nam Shan.

Remarks:
The campsites are categorized into 3 size classes with reference to the number of potential tent space which is estimated based on the approximate size of a 4-person tent and the required cooking space and access pathway for campers. This is for reference only.
Campsite category: Small / Medium / Large
Small: for category with less than 20 tent spaces.
Medium: for category with 20 – 50 tent spaces.
Large: for category with more than 50 tent spaces.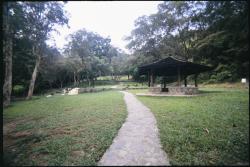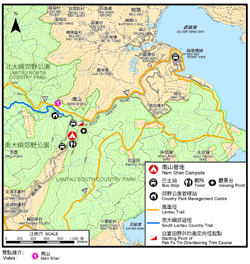 Map: Download

Viewing

pdf file format can be done through the use of the Adobe ® Acrobat ® Reader ® software which is available free at the Adobe Systems Incorporated website.