Tai Long Wan Campsite
Tai Long Wan Campsite
Location:
Tai Long Wan, Lantau South Country Park
Campsite Category:
Small (Remarks)
Accessibility:
Strenuous; suitable for experienced hikers and campers
Introduction:
As Tai Long Wan Campsite is surrounded by a slope and coastal lines, this is an ideally tranquil environment for camping.
Facilities:
Barbeque pits, benches, cloth lines, drains and tables
ygienic facilities:
Dry toilet pit
Source of water:
Stream water (seasonal supply)
Highlights:

Tai Long Wan Tsuen - a pleasant community built in 1959. When the government was finalizing its plans for Shek Pik Reservoir, it built Tai Long Wan Tsuen to re-settle many people whose homes were to be flooded by the reservoir - the villagers from Shek Pik Wai, Fan Pui, Kong Pui, Sha Tsui, Chung Hau and Hang Tsai. (Some villagers were also re-settled at Mui Wo and Tsuen Wan.) Over ten families now live in Tai Long Wan Tsuen, mostly members of the Fung and Tsui families. The Fung Ancestral Hall is situated there.

Shek Pik Reservoir - It is surrounded by Kau Nga Ling at the east, Keung Shan at the west and Muk Yue Shan and Sze Tsz Tau Shan at the north. It was completed in 1963 after 7-year construction. The main dam is 713m in length and 54m in height which cuts across the Shek Pik Valley and diverts stream water from nearby mountain ranges. Its capacity is 24.4 million cubic metres which claimed the largest reservoir in Hong Kong during 1960s.

Country trails:
Lantau Trail - Stage 8
How to get there:
Take Bus 11 (to Tai O) or Bus 23 (to Ngong Ping) from Tung Chung Town Centre or Bus 1 (to Tai O) or Bus 2 (to Ngong Ping) from Mui Wo. Alight at Sha Tsui Bus Stop. Enter Lantau Trail Stage 8 through Wang Pui Road towards Kau Ling Chung direction, and it would take about 30 minutes to arrive at the entrance of the site.
Remarks:
The campsites are categorized into 3 size classes with reference to the number of potential tent space which is estimated based on the approximate size of a 4-person tent and the required cooking space and access pathway for campers. This is for reference only.
Campsite category: Small / Medium / Large
Small: for category with less than 20 tent spaces.
Medium: for category with 20 – 50 tent spaces.
Large: for category with more than 50 tent spaces.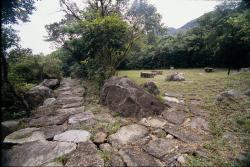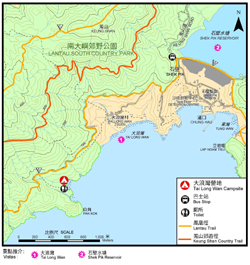 Map: Download

Viewing

pdf file format can be done through the use of the Adobe ® Acrobat ® Reader ® software which is available free at the Adobe Systems Incorporated website.