Kau Ling Chung Campsite
Kau Ling Chung Campsite
Location:
Kau Ling Chung, Lantau South Country Park
Campsite Category:
Small (Remarks)
Accessibility:
Strenuous; suitable for experienced hikers and campers
Introduction:
Kau Ling Chung Campsite is one hectare in size, occupying the best location and scenery in the country parks on the island. It not only features a silky beach bay but also a cozy stream, a few bridges and a tropical rainforest. Other highlights include a viewing point up on a hilltop at the east and an obelisk.
Facilities:
Barbeque pits,  benches, drains and cloth lines
Hygienic facilities:
Dry toilet pits
Source of water:
Stream water (seasonal supply)
Highlights:

The Obelisk - It is situated on a hill next to the campsite. A similar feature also found in Tai O which were erected by British Navy in 1902 to mark sea border between British New Territories and China.

Fan Lau Fort - It stands at the southern slope above Fan Lau Tung Wan which overlooks the mouth of Pearl River. The fort was purposely built to safeguard the sea routes from Pearl River mouth to Guangzhou, protecting ships from piracy. It was declared as historical monument in 1981.

Country trails:
Lantau Trail - Stage 8
How to get there:
From Tung Chung Town take Bus 11 or Bus 1 from Mui Wo. Get down at Shek Pik Reservoir West bus stop and trace the Stage 7 and Stage 8 of Lantau Trail backward to Tai O direction for about an hour.
Remarks:
The campsites are categorized into 3 size classes with reference to the number of potential tent space which is estimated based on the approximate size of a 4-person tent and the required cooking space and access pathway for campers. This is for reference only.
Campsite category: Small / Medium / Large
Small: for category with less than 20 tent spaces.
Medium: for category with 20 – 50 tent spaces.
Large: for category with more than 50 tent spaces.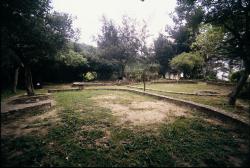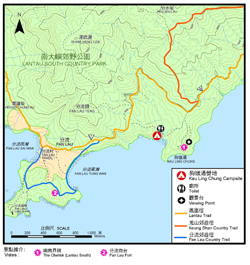 Map: Download

Viewing

pdf file format can be done through the use of the Adobe ® Acrobat ® Reader ® software which is available free at the Adobe Systems Incorporated website.