Ham Tin Wan Campsite
Ham Tin Wan Campsite

Location:
Ham Tin Wan, Sai Kung East Country Park
Campsite Category:
Large (Remarks)
Accessibility:
Difficult; suitable for experienced hikers and campers
Introduction:
The campsite is situated at Ham Tin Wan, which is inside the Sai Kung East Country Park. Its silky sand and crystal clear water create a peaceful environment for enjoying coastal scenery. It also offers panoramic view of Sharp Peak.
Facilities:
Wind-resistant cooking pits
Hygienic facilities:
Flushing Toilets (about 200m from the campsite)
Source of water:
Tap

Highlights:

Ham Tin Wan- Together with the adjacent with the adjacent Sai Wan, Tai Wan and Tung Wan, these four beaches are the most captivating coastal attractions in Hong Kong and known as 'Tai Long four bays'.

Sharp Peak - It is formed by volcanic rock. Towering 468m above the lowlands. Sharp Peak is definitely the most prominent landmark of Sai Kung East Country Park because of its steep ridge and conical shape.
Country trails:
MacLehose Trail - Stage 2
How to get there:
From Sai Kung Bus Terminal take Bus 94 or take Bus 96R at the Diamond Hill MTR Bus Terminal (on Sunday and public holiday) or take Minibus 7 (Hoi Ha) at Sai Kung Town. Then get off at Pak Tam Au stop. Trace the second stage of MacLehose Tail towards Chek Keng and Tai Long Au, which takes around 2 hours walk to arrive Ham Tin Wan Campsite.
Remarks:
The campsites are categorized into 3 size classes with reference to the number of potential tent space which is estimated based on the approximate size of a 4-person tent and the required cooking space and access pathway for campers. This is for reference only.
Campsite category: Small / Medium / Large
Small: for category with less than 20 tent spaces.
Medium: for category with 20 – 50 tent spaces.
Large: for category with more than 50 tent spaces.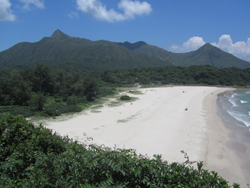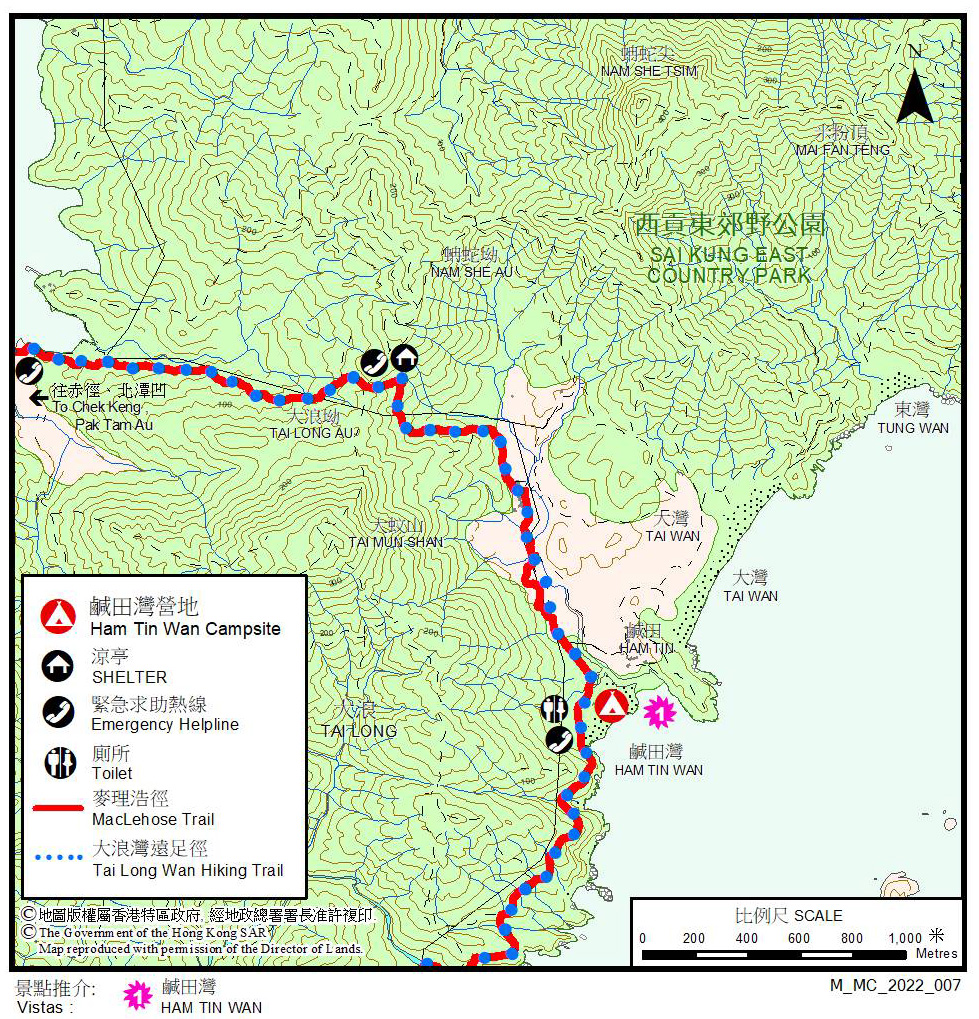 Download

Viewing

pdf file format can be done through the use of the Adobe ® Acrobat ® Reader ® software which is available free at the Adobe Systems Incorporated website.