Overview
Occupying a limited site of 47 hectares, Lung Fu Shan Country Park is the smallest and newest country park in Hong Kong, designated only recently in 1998. Situated north of High West and south of Kotewall Road, its borders lie on Hatton Road in the east and Harlech Road in the south, while the west and north boundaries are marked by drains laid by the Water Supplies Department.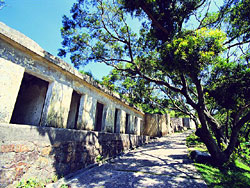 Lung Fu Shan Country Park
War ruins are major highlights of the park. Pinewood Battery and remains of old forts provide perfect setting for a journey back in time. The Pinewood Picnic Site nearby has a rain shelter, barbecue stoves, clothes hangers, tea facilities and a wide terrace with views across the sea to Green Island and beyond. Pinewood Battery was built in 1903 as part of the Island West coastal defense line. This military relic is preserved within the protected realm of the country park, with an interpretation plate to introduce its history.
Major Attractions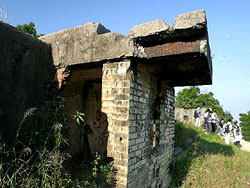 Pinewood Battery
Sitting on a knoll in Lung Fu Shan Country Park, Pinewood Battery is the remains of an old military fort built in 1903. Pinewood is the highest defense facility of its kind, commanding a high vantage point 307 metres above sea level. The original gun emplacement, commanding platform and shelters are preserved in tact to this day.
This battery in Lung Fu Shan is a defense position in Northwest Hong Kong Island. Just like Lei Yue Mun, it was designed to protect vessels passing through the western doorway of Victoria Harbour. During the war years, the British forces deployed a large artillery unit and heavy guns in this sea-facing battery to guard the Island.
In the 1920's, not long after its completion, Pinewood Battery was converted into an air defense battery. During the Japanese invasion, it came under repeated air raids. On December 15, 1941, Japanese bombers launched an attack on the battery, causing 1 death and 1 injury. One of the antiaircraft guns and certain other facilities were destroyed. Commander of the defending troops decided to abandon the battery, and all men were ordered to retreat on that day. At that note, Pinewood's historical mission ended gloriously.
Facilities
Lung Fu Shan Country Park provides a wide range of leisure facilities, including 2 picnic sites, barbecue area, notice boards, toilets, fitness equipment, pedestrian walkway, rain shelter and lookout.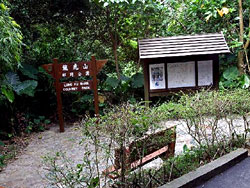 Lung Fu Shan Country Park
Lung Fu Shan is not only a favorite destination for morning walkers, it is also a place to show the integration of natural ecology and human heritage. Tourists are attracted by its beautiful scenery and the chance to learn more Hong Kong's recent history. The Pinewood Battery Trail is set in Lung Fu Shan Country Park. The trail is about 0.4km long and starts at the entrance of the Picnic Area Site No.1 on Hatton Road. Along the trail, you will see the relics of the Pinewood Battery. Interpretative posters on site also introduce the history of the Battery.
Ecological Highlights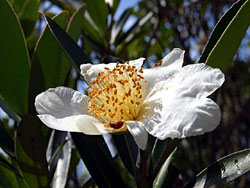 Hong Kong Gordonia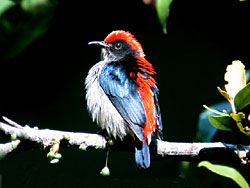 Scarlet-backed Flowerpecker
As part of a bio-diversity programme, the Agriculture, Fisheries and Conservation Department has carried out ongoing afforestation work in Lung Fu Shan over the decade. Native trees were selected for the park and in the 1970's a large number of Brisbane Box (Lophostemon confertus) were used to green the hills and slopes. Native trees found in Lung Fu Shan are Hong Kong Gordonia (Gordonia axillaris), Chekiang Machilus (Machilus chekiangensis) and Ivy Tree (Schefflera heptaphylla).
Lung Fu Shan's lush woodlands are where more than 115 bird species roost and feed. All you need is a pair of binoculars and some patience, and you will easily discover these feathered friends. Some of them can be heard, while others can be seen perched on the trees. Common species are Crested Goshawk (Accipiter trivirgatus), Orange-bellied Leafbird (Chloropsis hardwickii), Crested Bulbul (Pycnonotus jocosus), Chinese Bulbul (Pycnonotus sinensis), Scarlet-backed Flowerpecker (Dicaeum cruentatum), Asian Brown Flycatcher (Muscicapa dauurica), Indian Cuckoo (Cuculus micropterus), Hwamei (Garrulax canorus), Tristram's Bunting (Emberiza tristrami), Olive-backed Pipit (Anthus hodgsoni), Spotted Dove (Spilopelia chinensis), White-backed Munia (Lonchura striata), Grey Wagtail (Motacilla cinerea) and Black-throated Laughing-thrush (Garrulax chinensis). Occasionally, you find quills of the Chinese Porcupine (Hystrix brachyura) on the ground, and Pallas's Squirrels (Callosciurus erythraeus) chasing around in the bush.
Scenic Beauty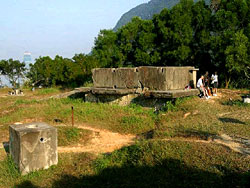 Picnic site
Start your hike from the picnic site at the end of Harlech Road. There are two picnic sites within the park. One of them has a lookout built directly on top of an old pillbox dating back to the Japanese War. There is an information plate that presents major sights of the region. On clear days, you can spot the remains of Pinewood Battery inside Lung Fu Shan Country Park.
Past the small park at the end of Harlech Road, the trail descends to the middle section via some steps. There is a fine view of Queen Mary Hospital and Cyberport, set against beryl water and Lamma Island in the distance. On your left is the Hong Kong Trail, while the entrance to Cheung Po Tsai Traditional Path, an ancient hill walk, lies on the right. It is a popular hiking route to follow Stage 1 of the Hong Kong Trail and then onto Lung Fu Shan Country Park via Cheung Po Tsai Traditional Path. The traditional path is about 3.5 km in length, and takes only 1 hour to complete.
Skirting along the uplands, the Cheung Po Tsai Traditional Path is blessed with clean, unpolluted air that is beneficial to plant growth. Pathside vegetation features great diversity, and provides habitats for many birds and insects. Half way down the path, there are ruins of ancient temples near Sai Lam Buddhist Hall (old site), and traces of makeshift facilities constructed by morning walkers which were once common in Lung Fu Shan. Further up, at the start of another traditional path section, you find a rain shelter with clothes hangers and the first-ever tea-making facilities provided in a country park (stoves for kettles) to morning walkers. A flight of steps take you down to a level hill trail. A little further, another flight of steps lead up to a large finger-shaped marker-post, indicating the end of the rain shelter section of Cheung Po Tsai Traditional Path. The section of the path that leads to Hatton Road was closed in mid-2000 after a mudslide.
Public Transport Information
There are several public transport routes to Lung Fu Shan Country Park :
Take bus no. 15 or green minibus no. 1 in Central to the Peak (Victoria Gap). Walk along Harlech Road for the entrance to Lung Fu Shan Country Park.
Take bus no. 13 or green minibus no. 3A in Central to Kotewall Road. From Hatton Road next to the HKU Vice-Chancellor's Residence, walk up to the portal of the country park.
Take bus no. 3B in Central, bus no. 23 in North Point (ferry pier) or cross-harbour bus no 103 in Chuk Yuen to Pokfield Road, where a flight of steps leads to Lung Fu Shan.