Fisheries education centre
Important Note: Due to construction works at the building, the Fisheries Education Centre will be closed from 1 September 2017.
The Fisheries Education Centre was officially opened on 30 September 2003. The establishment of the Centre aims at increasing the general public understandings on our local fishing industry and promoting the public awareness on conservation of our fisheries resources and marine environment. Through interactive exhibits, models and educational video, we hope that visitors will offer more support to our fisheries management measures and help promote the sustainable development of our fishing industry.
Fisheries Hall - Information on fish and interesting aquatic life are displayed. It also features the development of Hong Kong fisheries and fisheries research.
Publication
The "Hong Kong Marine Recreational Fishing Booklet (Chinese only)" is now on sale
Commercial crustaceans in Hong Kong
Mariculture management booklet (Chinese version only)
Pond culture management booklet (Chinese version only)
Fish feed management booklet (Chinese version only)
Fish disease prevention booklet (Chinese version only)
Fry health management booklet (Chinese version only)
Leaflet on Mosquito Control in Fish Ponds (Chinese Version only)
[Download Acrobat Reader to open PDF file]
Links
Hong Kong Fish Net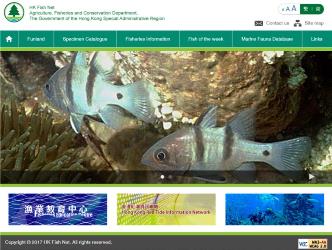 The Agriculture, Fisheries and Conservation Department has set up a bi-lingual website, the Hong Kong Fish Net (www.hk-fish.net), enabling the public to have a better appreciation of our local fishing industry and our rich and diverse fisheries resources in Hong Kong waters. The website is user-friendly and contains interesting fisheries related information such as the different types of local fishing vessels, common species of live seafood consumed in Hong Kong and the coral reef fish trade. In addition, the website contains the " Hong Kong Marine Fauna Database", which is the first database consisted of photos and scientific information of over 1000 marine fish and shrimp in Hong Kong waters. The database is also equipped with a search engine to facilitate readers for easy browsing. It provides useful information to teachers and scientific researchers for education and research purpose. We hope that by launching the website, it would help raising the public awareness on the need and importance of fisheries resources conservation in Hong Kong.
| | |
| --- | --- |
| | Telephone No. |
| Fisheries Education Centre | 2873 8336 / 8353 |
| Lions Nature Education Centre | 2792 2234 |