Lantau South
| | |
| --- | --- |
| Lantau South Country Park | |
Overview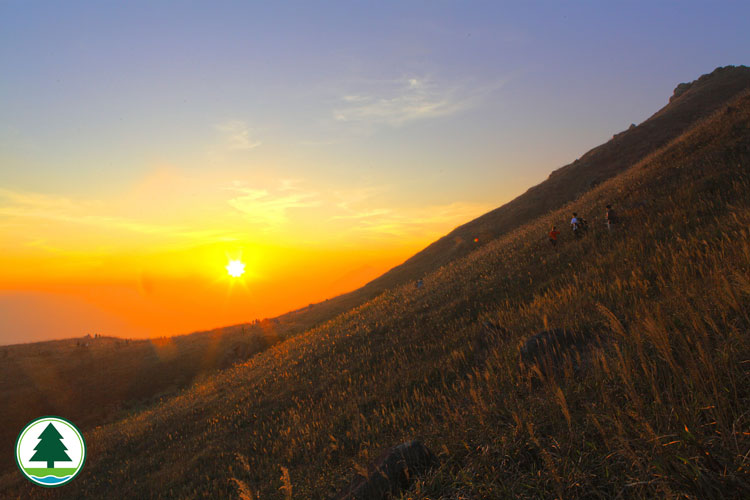 Sunset at Sunset Peak
Lantau, occupying a land area of 144 square kilometres, is Hong Kong's largest island. This major outlying island has 47 settlements, headed by Mui Wo, Tung Chung and Tai O which have all been developed into new towns in recent years. More than half of Lantau comes within the protected realm of Lantau South Country Park, Lantau North Country Park and Lantau North (Extension) Country Park. The former was designated in 1978 as the largest country park in the territory. Occupying 56.4 square kilometres, it borders with Lantau North Country Park in the north and ends at South Lantau Road in the south. To the west lies Fan Lau and to the east sits the coastal town of Mui Wo. Within the boundaries of this park you find Chi Ma Wan Peninsula, Shui Hau Peninsula, the south face of Sunset Peak, Yi O, Fan Lau, Man Cheung Po, Ling Wui Shan, Shek Pik, Shap Long and Nam Shan. Famous sights include Fan Lau Fort, Chi Ma Wan rock formation, and of course, the famous Lantau Peak sunrise.
Lantau South Country Park has a host of captivating attractions. Set amidst the rolling slopes of Lantau Peak and Sunset Peak, the park spreads across a radiating network of natural waterways. Historical records show that South Lantau's complex circuitry of village paths date back several hundred years. Most stone trails still existing today, known as traditional paths, are frequented by hikers, while the ever popular Lantau Trail is the premier choice for challenging your stamina and will power. Divided into 12 stages, the 70 km Lantau Trail traverses Lantau South Country Park and Lantau North Country Park. Beginning in Mui Wo, it snakes across the uplands for a full circle to end also in Mui Wo. Along the way, you enjoy a great diversity of natural vistas.
Chi Ma Wan is a peninsula in the southeastern corner of Lantau. A hiking trail in Pui O Beach takes you there via Mong Tung Wan. The peninsula has extensive plantations which support a great variety of butterflies and birds. You can see them in striking colours along the trail. Also eye-catching is the Lantau seascape : a series of bays and coves along the coast set against Shek Kwu Chau and Cheung Chau in the distance.
Major Attractions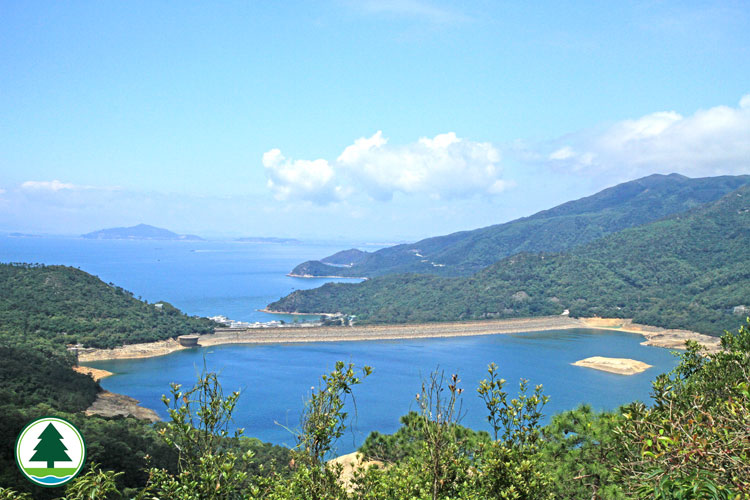 Shek Pik Reservoir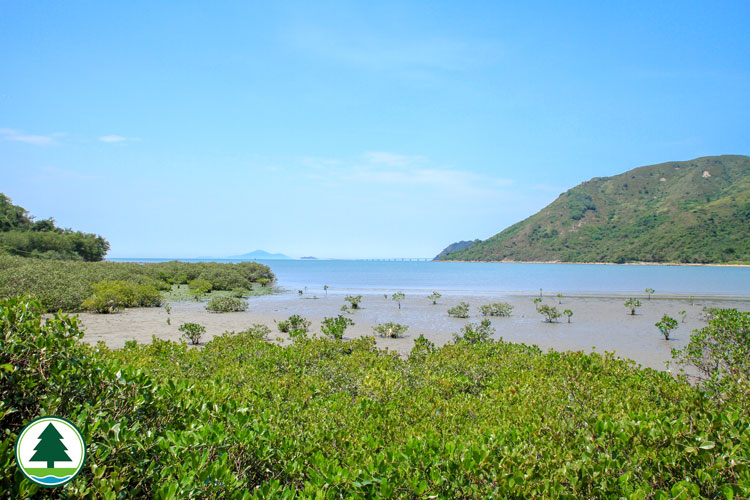 Yi O
Lantau Peak is the highest peak in Lantau South Country Park. The 934 m summit is a mecca for local hikers. To reach the top by daybreak, most people set off in the dark. The best arrangement is to spend the night in a hostel in Ngong Ping, then make an early start in the wee hours to arrive at the summit by dawn to see the sun rise. As the steep climb is quite strenuous, hikers should make sure they rest well the night before, and don't forget essentials like a windbreaker, dry food, drinking water and hand torch.
Shielded by Lantau Peak and Sunset Peak, South Lantau is a south facing region of mild climate. These favourable conditions make it a suitable place for settlement, and consequently the local transport network is well developed. Since ancient times, Lantau Island has been a stronghold guarding the outlet of southern waterways. Its unique geographical location has made it an important pivot point. From ancient remains, we know South Lantau was first inhabited in the Neolithic Age, with villagers engaging in fishing, salt production and lime production for many centuries. The lime industry, in particular, has a long history that goes back to the Sui Dynasty (500 AD). The government has recently finished restoring a group of ancient limekilns in Yi Long Wan in Chi Ma Wan Peninsula. These relics are now open to the public.
In the Qing Dynasty, Lantau and other islands off the southern coast were plagued by pirates and opium smugglers. In the early 18th Century, by order of the Governor of Canton, a series of forts were built. Troops were stationed at these positions to afford coastal defense. The first fort was placed in Fan Lau at the southwestern tip of the island, chosen for its strategic location as a military stronghold for defending the Pearl River Estuary. Locals call this position Chicken Wing Bluff Fort. Fan Lau Fort is the oldest redoubt in Hong Kong. Abandoned many years ago, the remains are now overgrown with grass. However outline of the fortification is still visible.
Shek Pik Reservoir in Lantau South Country Park is an island water storage facility. With a capacity of 738,000,000 cubic feet, it was once the largest reservoir in Hong Kong. Today, it is our third largest reservoir, ranking after High Island and Plover Cove. Just like Tai Tam Tuk Reservoir, the main dam has a vehicular road. This road is also a thoroughfare between Mui Wo and Tai O. For a panoramic view of Shek Pik Reservoir, climb up to Ngong Ping Plateau. There, against a backdrop of azure water and clear blue sky, a tranquil lake mirrors the silhouette of verdant slopes. A lovely show of greens and blues, manifesting the magic of wild Hong Kong, invigorates you. In a setting as serene as this, there is no place for worldly worries. For those who enjoy nature photography, the plateau is a perfect spot to capture the beauty of South Lantau. There are several hiking routes inside the park. Among them, Chi Ma Wan Country Trail that orbits the peninsula is the longest trail of its kind in the territory.
Facilities
Lo Kei Wan Campsite Scenic Beauty
Lantau Country Park is a natural retreat tucked deep in virgin country. You can enjoy all sorts of outdoor activities here : leisure walking, camping, sightseeing, swimming, fishing and enjoying a scenic barbecue or picnic in the South Lantau catchment area. For campers, there are public wild campsites in Kau Ling Chung, Tai Long Wan and Lo Kei Wan. There are also many hiking routes, including Lantau Trail, a country trail, a mountain bike trail and a tree walk. With such a wide selection, no wonder the park is a hot destination for family outings.
Monasteries in Ngong Ping and Upper Keung Shan are also famous sights of South Lantau. Some of them offer economical accommodation to visitors. A youth hostel in Mong Tung Wan of Chi Ma Wan Peninsula also has guestrooms, and private holiday villas are available in Tong Fuk and Pui O.
Ecological Highlights
Vast and miles away from city hubbub, Lantau South Country Park is an ideal home for wildlife. In the varied habitats on the island one finds a phalanx of natural species, including many rare plants which flourish on the slopes of Lantau Peak, northern Sunset Peak and in central Chi Ma Wan Peninsula. The region also boasts extensive secondary forests that harbours native flora species like Tree Ginseng (Dendropanax dentigerus), Hong Kong Magnolia (Magnolia championii) and Gmelina chinensis which is listed in Illustration of Rare & Endangered Plants in Guangdong Province. In the reservoir catchment area, denuded hills and vegetated area damaged by hillfire, there are profuse plantations. The Lantau plantations originate in Shek Pik Reservoir and spreads across the surrounding hillsides. Given the island's poor soil condition and coastal location, early afforestation species were mostly fast-growing large trees, such as Taiwan Acacia (Acacia confusa), Brisbane Box (Lophostemon confertus) and Slash Pine (Pinus elliottii). In recent years, native plants like Chinese Hackberry (Celtis sinensis), Fragrant Litsea (Litsea cubeba), Lidded Cleistocalyx (Cleistocalyx operculatus), Camphor Tree (Cinnamomum camphora), Reevesia (Reevesia thyrsoidea), Chinese Banyan (Ficus microcarpa) and Strawberry Tree (Myrica rubra) are introduced.
Lantau provides roosting and feeding places for many rare wild animals that are iconic of Hong Kong : the Red Muntjac (Muntiacus muntjak) that loves to hide in the depth of the woods; the adorable Pallas's Tree Squirrel (Callosciurus erythraeus) that moves agilely on branches; the White-bellied Sea Eagle (Haliaeetus leucogaster) that graces the sky; the Indian Awl King (Choaspes benjaminii formosanus) that dances around flowering shrubs; and the Wandering Glider (Pantala flavescens) that often rests on streamside pavilions.
Scenic Beauty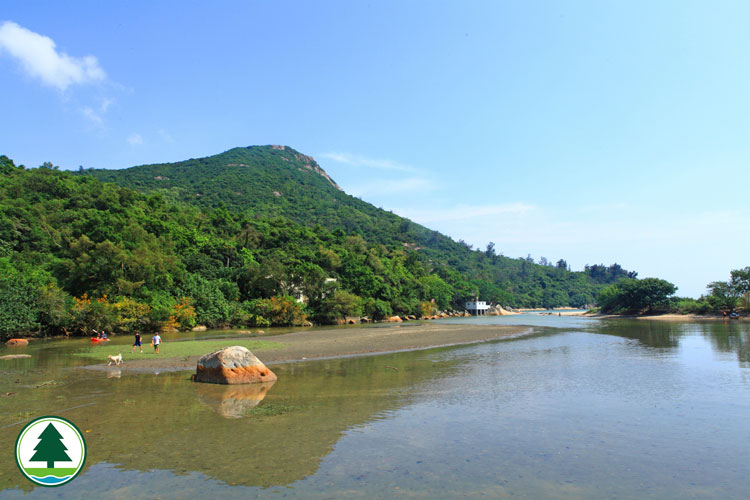 Pui O River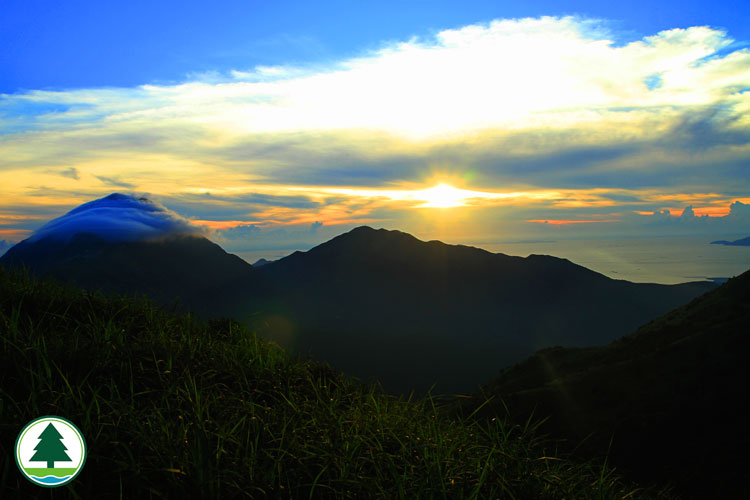 Sunrise at Lantau Peak
In addition to the famous Lantau Peak sunrise, old lime kilns of Chi Ma Wan and Fan Lau Fort mentioned earlier, Lantau South Country Park has many other attractions to offer.
The Lantau Trail is a hiking route that trails the entire breadth of the country park. You can start your hike in Mui Wo, and embark on a circular route that visits Yi Tung Shan, Sunset Peak, Pak Kung Au, Lantau Peak, Ngong Ping, Keung Shan, Man Cheung Po, Tai O, Yi O, Fan Lau, Shek Pik, Shui Hau Peninsula, Pui O and Shap Long, before heading back to Mui Wo. The 70 km Lantau Trail is divided into 12 stages. The first 5 stages are treacherous paths that follow rugged slopes and ridges. The journey demands physical strength and hiking experience, and completing all 5 stages in one day is not recommended for the casual hiker. Lantau Peak is Hong Kong's second highest summit, with an elevation even higher than Sunset Peak. The peak gets its Chinese name from the two spurs : Feng and Huang (meaning phoenix). To visit the summit, take the New Lantao Bus (NLB) for Ngong Ping at Tung Chung, and follow the sign to the Lantau Peak Sunrise portal. All those who have watched the sun rise atop Lantau Peak agree it is one of the most spectacular natural scenes.
Chi Ma Wan Peninsula is situated in the southeastern corner of Lantau Island. To hike there, simply follow the country trail that leads from Pui O to the promontory via Mong Tung Wan. Chi Ma Wan is greened by sprawling plantations, and the trail is a delectable route frequented by colourful butterflies and singing birds. Along the way there are wide and far reaching vistas : Shek Kwu Chau and Cheung Chau resting in the distance, and picturesque sandy beaches along the Lantau shore. If you are game for a physical challenge, follow the country trail to Mui Wo.