Conservation of Mangroves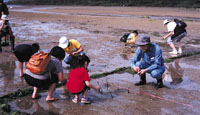 Mangrove planting
Protect mangrove stands in Restricted Area, Marine Park or Marine Reserve - e.g. Mangroves in Hoi Ha Wan Marine Park.


Designation of important mangrove stands as Sites of Special Scientific Interest - e.g. Ting Kok mangroves.


Minimize the impact of urbanization through landuse planning and environmental assessment process.


Promote public awareness on the conservation of mangroves.


Mangrove planting.
| | |
| --- | --- |
| Ting Kok mangroves | Hoi Ha Wan mangroves |