Cheung Sheung Campsite
Cheung Sheung Campsite
Location:
Cheung Sheung, Sai Kung West Country Park
Campsite Category:
Small (Remarks)
Accessibility:
Difficult; Suitable for experienced hikers and campers.
Introduction:
This gem of a site is remote, situated on Cheung Sheung Plateau. The terrain of campsite is flat and surrounded by shrubs. A running stream passes through and from the grassy banks vistors have the best view of Shek Uk Shan, the highest mountain in Sai Kung. Nearby, there is a food store managed by a local resident. The mystical quality of the campsite makes it a popular retreat.
Facilities:
Barbeque pits, benches and tables
Hygienic facilities:
Outhouse
Source of water:
Stream water (seasonal supply)
Highlights:
Cheung Sheung Plateau - There were numerous villages with schools during the peak era in 1950-60s. Since the Hong Kong economy developed in 1970s, many villagers moved to urban areas. Now, there is only one store open on holidays and it retains part of the school recreational facilities in its outdoor area. Owing to its extensive track network, this campsite is one of the ideal sites for training trekking skills.
Country trails:
Cheung Sheung Country Trail and MacLehose Trail - Stage 3
How to get there:
Take Minibus 7 from Sai Kung Town (Hoi Ha) and get off at Cheung Sheung Country Trail starting point. Follow the country trail and signpost, it takes an hour to reach the campsite.
Remarks:
The campsites are categorized into 3 size classes with reference to the number of potential tent space which is estimated based on the approximate size of a 4-person tent and the required cooking space and access pathway for campers. This is for reference only.
Campsite category: Small / Medium / Large
Small: for category with less than 20 tent spaces.
Medium: for category with 20 – 50 tent spaces.
Large: for category with more than 50 tent spaces.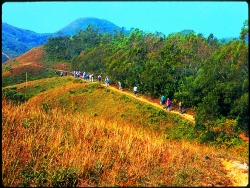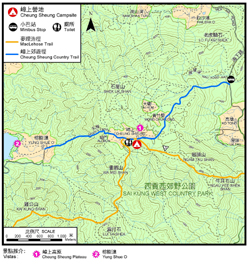 Map: Download

Viewing

pdf file format can be done through the use of the Adobe ® Acrobat ® Reader ® software which is available free at the Adobe Systems Incorporated website.