Clear Water Bay
| | |
| --- | --- |
| Clearwater Bay Country Park | |
Overview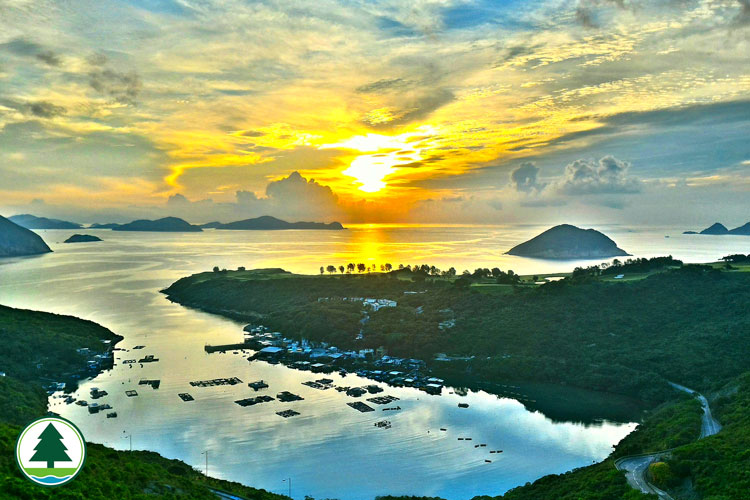 Sunrise at Clear Water Bay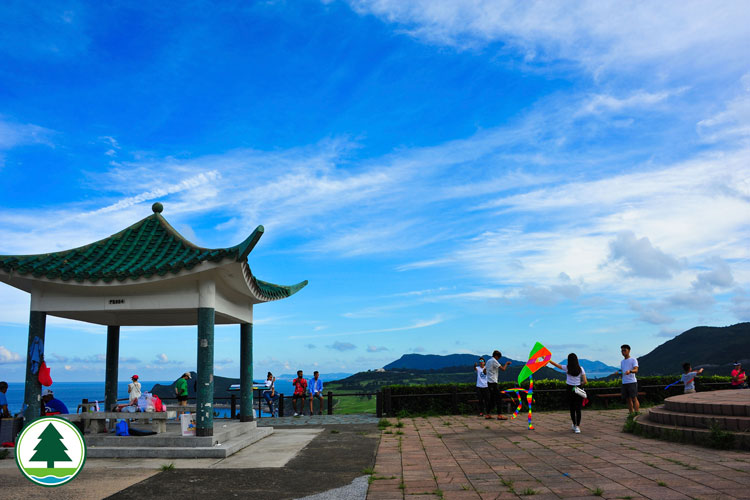 Tai Au Mun Kite-flying Area
Designated on 28 September 1979, the 615-hectare Clearwater Bay Country Park takes in a wide rugged terrain in the Southeastern New Territories. Its boundaries extend southwards from Hang Hau to the undulating mountain range that screens Joss House Bay, and continue eastwards to the hillocks around Lung Ha Wan. The country park encompasses the wild eastern and western parts of Clearwater Bay Peninsula. Topographically challenging, these areas have largely escaped industrial and domestic developments. They are popular destinations for nature studies and outdoor activities.
Clearwater Bay Peninsula is a typical submergent coast. Submergence of the coastal plains was resulted either by subsidence during crustal movement or by the rise of sea level many millennia ago. Given this geological history, the country park is a showcase of unique landforms and topographic features. Whether you are into serious geological studies or just a lover of natural landscape, Clearwater Bay has a lot to offer.
Begin your journey in Tai Hang Tun at the end of Clearwater Bay Road. It is a comfortable starting point for family hikers. Here, even toddlers can wobble along safely. This popular barbecue and picnic destination almost always has a cool breeze. Many come here just to fly kites.
Historic sites are major attractions of Clearwater Bay Country Park. Examples are the Tin Hau Temple in Fat Tong Mun and the Bronze Age rock carving. Seafood lovers should not miss Po Toi O, a traditional fishing hamlet where villagers still pursue the old seafaring trade, and where you can sample fresh catches of the sea.
Major Attractions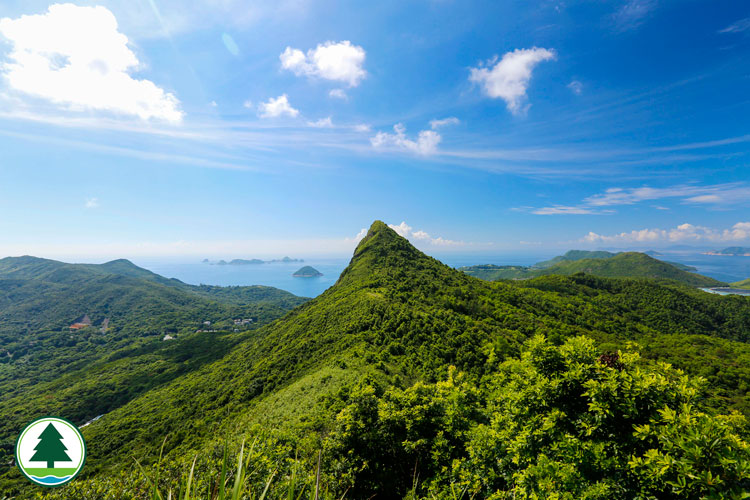 High Junk Peak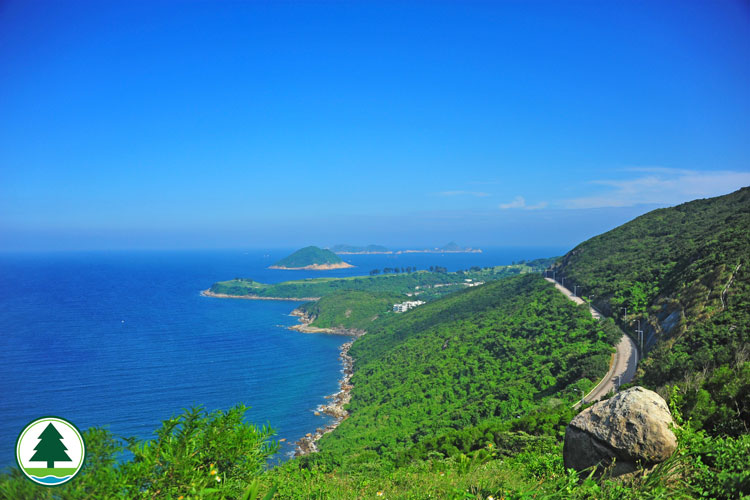 Overlooking Green Island from High Junk Peak
High Junk Peak - one of the four treacherous peaks in Hong Kong - is the no. 1 attraction of Clearwater Bay Country Park. Steep and menacing, the spur offers surprisingly peaceful vistas. This juxtaposition of wild ruggedness and bucolic charm have lured many visitors in times old and new. One poet in the Qing Dynasty wrote the Bamboo Verse to mark his journey to High Junk Peak, "Hiking across Sheung Yeung Shan and Ha Yeung Shan, the encounter with High Junk made my day".
Towering 344 metres above the lowlands, High Junk Peak tests hikers with a tough final ascent. On the east face of its abrupt summit, precipices plunge down to densely wooded foothills, where buttress slopes stretch all the way to Clearwater Bay and the typhoon shelter beyond. The High Junk Peak Country Trail, a hillside green walk, takes you to a lookout atop Sheung Yeung Shan. This sinuous route offers breathtaking views on both sides. The eastern view, revealing jagged cliffs of High Junk Peak, is particularly arresting. Common Melastoma (Melastoma candidum) is widely distributed in these hills. In early spring, when a burst of pink dresses nearby slopes, the formidable High Junk Peak seems almost tame.
Facilities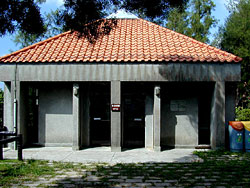 Visitor Center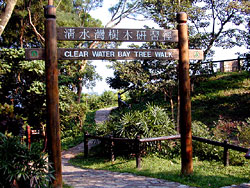 Clear Water Bay Tree Walk
There are several country trails within the borders of Clearwater Bay Country Park. Hikers can select one that suits their interest and ability. There is also a visitor centre to offer information and guidance. To get there, take KMB bus no. 91 to Tai Au Mun, then walk for about 1 km to the carpark at the end of Clearwater Bay Road. A small path leads to the visitor centre.
Clearwater Bay Tree Walks is a 1.2 km tree walk in Tai Hang Tun. Cutting across dense woodlands in the mid slopes, it features 12 stops with information on different plants. The route is lined with interesting flora, including Laurel Sweet-leaf (Symplocos cochinchinensis laurina), Square-leaved Chinese Laurel (Antidesma ghaesembilla), Monkey-pod (Archidendron clypearia), Bamboo Orchid (Arundina graminifolia) and Thistle (Cirsium hupehense). Frequented by butterflies, dragonflies and damselflies, this green path is an ideal family walk.
Ecological Highlights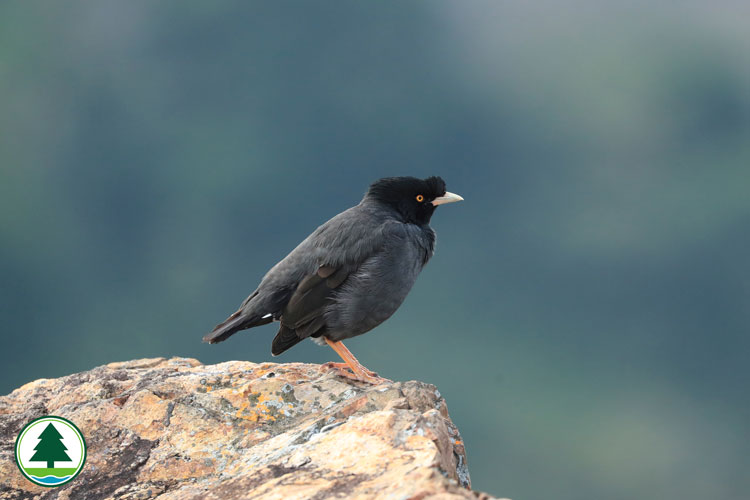 Crested Myna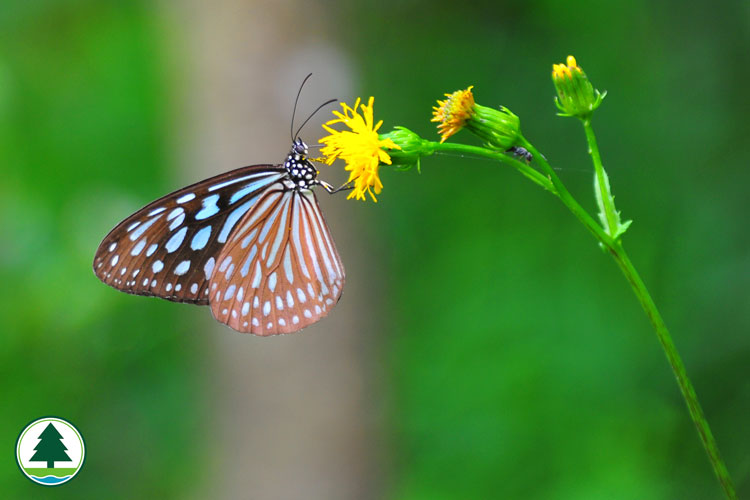 Ceylon Blue Glassy Tiger
The Clearwater Bay peninsula is extremely rich in flora. In addition to natural forests, there are many mature plantations. Common plants include, Ivy Tree (Schefflera heptaphylla), Lance-leaved Sterculia (Sterculia lanceolata), Elephant's Ear (Macaranga tanarius), Opposite-leaved Fig (Ficus hispida), Autumn Maple (Bischofia javanica), Lingnan Garcinia (Garcinia oblongifolia) and pines trees. The High Junk Peak Country Trail passes through extensive wild shrublands and fung shui woods.
Most locally common bird species can be found here. Examples are Chinese Bulbul (Pycnonotus sinensis), Spotted Dove (Steptopelia chinensis), Red Turtle-dove (Streptopelia tranquebarica), Hwamei (Garrulax canorus), Crested Myna (Acridotheres cristatellus), Great Tit (Parus major), Crested Bulbul (Pycnonotus jocosus), Great Tit (Parus major) and Magpie (Pica pica), while unusual species like Chinese Francolin (Francolinus pintadeanus), Black-eared Kite (Milvus migrans) and Great Coucal (Centropus sinensis) occasional occur. In coastal areas near Tai Hang Tun and Lung Ha Wan, Common Gulls (Larus canus) are often seen in elegant flight.
Supported by diverse and abundant flora, butterflies thrive in Clearwater Bay Country Park. Common species are Common Mormon (Papilio polytes), Glassy Tiger (Parantica aglea melanoides), Common Tiger (Danaus genutia genutia), Red-base Jezebel (Delias pasithoe), Lime Blue (Chilades lajus), Ceylon Blue Glassy Tiger (Ideopsis similis similis), Paris Peacock (Papilio paris), Large Faun (Faunis eumeus eumeus) and Lemon Pansy (Junonia lemonias lemonias). In contrast, mammals are seldom seen, with the exception of the Wild Boar (Sus scrofa). If you are lucky, you might have a brief encounter with the Masked Palm Civet (Paguma larvata).
Scenic Beauty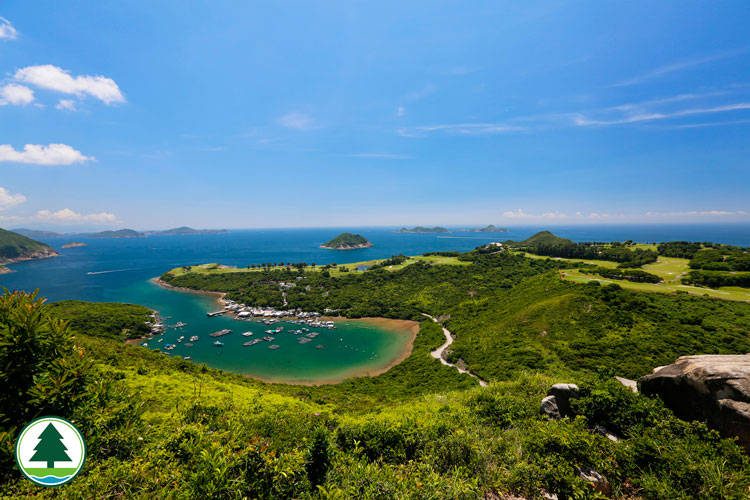 Overlooking Po Toi O from Tin Ha Shan
Clearwater Bay Country Park is renowned for rocky uplands and emerald waters. After enjoying the grand vistas at High Junk Peak, why not go on to Tai Leng Tung for a show of extraordinary landforms? Rising up 291 metres, the peak envelops the eastern corner of Clearwater Bay. Under this magnificent crest, the long wave swept seashore unfolds. A path leads from Lung Ha Wan to a high point, where you can see weathered rocks exposed along the coast. Down below, the foothills flaunt narrow strips of golden volcanic rock. Farther out, the serrated profile of the Ninepins commands a defined presence.
Tai Hang Tun - the pass between High Junk Peak and Tai Leng Tung - is another sightseeing vantage point. Set by the sea on Clearwater Bay Peninsula, it gives a panorama of coasts and islands. To the southwest, the beryl Clearwater Bay is calm and lucid, adorned occasionally by fishing boats. To the south, Po Toi O and the Clearwater Bay Golf Course show a lovely palette of blues and greens. To the southeast, Green Island and the Ninepin Group lie in far corners of the sea. Such bewitching seascape, such dreamy atmosphere, made perfect by a cool sea breeze. With scenery as beautiful as this, who can bear to leave? Exposed and windy, Tai Hang Tun is a good place to fly a kite.