Pok Fu Lam
| | |
| --- | --- |
| Pok Fu Lam Country Park | |
Overview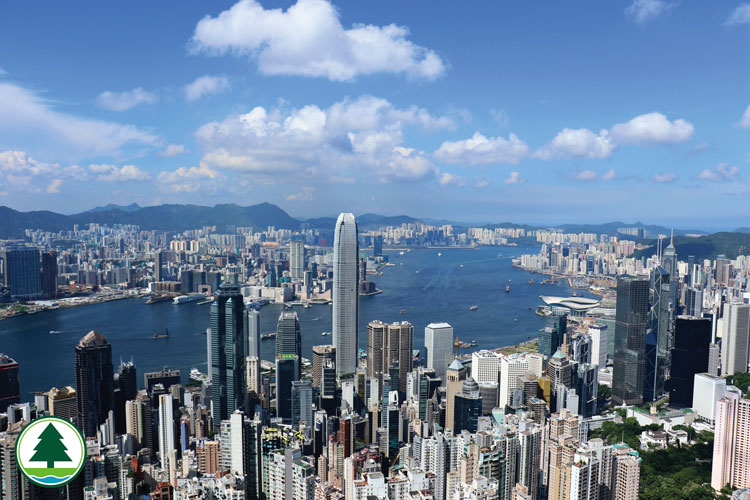 Overlooking Central and Kowloon Peninsula from Peak Trail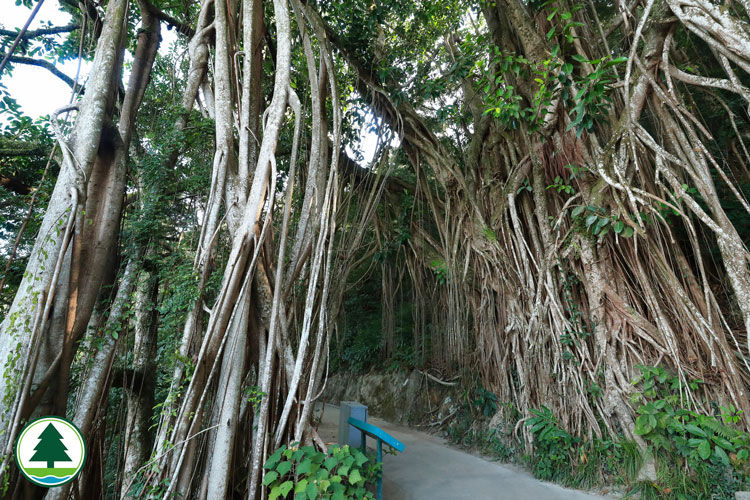 Indian-rubber Tree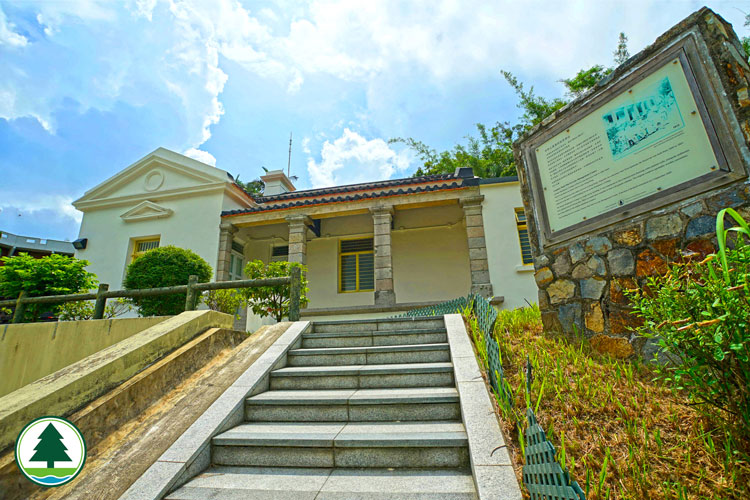 Pok Fu Lam Country Park Management Office
Designated in 1979, Pok Fu Lam Country Park is a 270-hectare sylvan sanctuary encompassing Pok Fu Lam Reservoir. The reservoir, completed in 1863, is the oldest water storage facility on Hong Kong Island. This picturesque country park is set in the foothills of Victoria Peak. In the valley, Stage 1 of Hong Kong Trail begins its scenic route along Harlech Road. There is a spectacular view of Victoria Harbour. On weekends and holidays, the circular hill path that trails along Lugard Road and Harlech Road is a favourite hike for Peak visitors. From here, you can walk down to the verdant Pok Fu Lam valley, where lush woodlands and placid water to keep you cool even on the hottest day.
Strolling along the wooded path, you are greeted by beautiful landscape of hills and waters, with views across Island South, Pok Fu Lam Reservoir and surrounding forests. Pok Fu Lam Country Park is very popular with morning walkers. At dawn when the air is fresh, people come here to jog, walk, exercise or simply to see familiar faces. To nearby residents, this green haven is a cherished back garden.
Major Attractions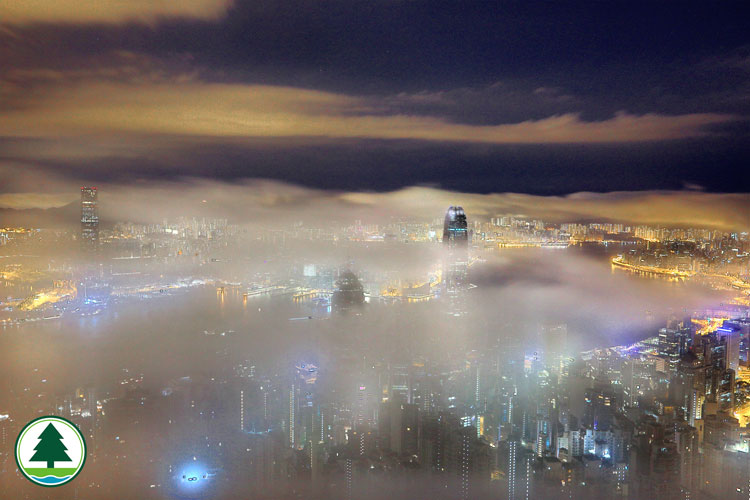 Foggy Night Scenery of Victoria Harbour
The 2.2 km Pok Fu Lam Tree Walk features Hong Kong's native plant species. Winding along Lugard Road by the Peak Galleria, this short route takes about 45 minutes to complete. While admiring the beauty of nature, you also take in superb vistas of Victoria Harbour and the urban districts on both sides. A perfect juxtaposition of natural landscape and architectural wonders, where country and city stand side by side, Hong Kong lives up to her name as Asia's world city. Along the tree walk you may find interesting flora species like Chinese Hackberry (Celtis sinensis), Ivy Tree (Schefflera heptaphylla), Lance-leaved Sterculia (Sterculia lanceolata), Turn-in-the-wind (Mallotus paniculatus), Silver-back Artocarpus (Artocarpus hypargyreus), Reevesia (Reevesia thyrsoidea), Woodland Elaeocarpus (Elaeocarpus sylvestris), Acronychia (Acronychia pedunculata), Morris's Persimmon (Diospyros morrisiana), Chinese Banyan (Ficus microcarpa), Mountain Tallow Tree (Sapium discolor), Camphor Tree (Cinnamomum camphora), Pond Spice (Litsea glutinosa), Short-flowered Machilus (Machilus breviflora) and Hong Kong Gordonia (Polyspora axillaris).
The Peak Trail starts at Victoria Gap and follows the whole length of Lugard Road and arrives at High West Picnic Area where it branches into two sections. The High West Section continues along Section 1 of the Hong Kong Trail and ends at the idyllic Pok Fu Lam Reservoir. The Pinewood Battery Section proceeds downhill, passing by the relics of Pinewood Battery and ends at Kotewall Road.
Facilities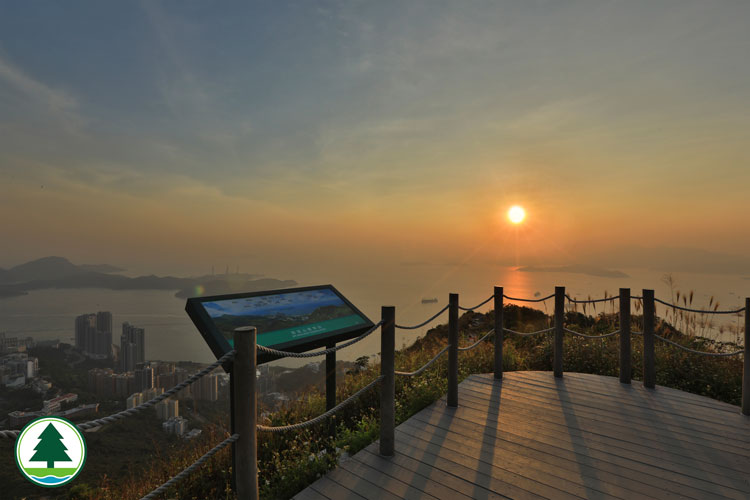 Sunset at High West Viewing Point
The full range of facilities in Pok Fu Lam Country Park include rain shelters, toilets, lookouts, fitness facilities, picnic sites, and information map boards. To the northwest of the reservoir you find the Pok Fu Lam Family Walk which lies within the Pok Fu Lam Reservoir Site of Special Scientific Interest (SSSI), with its diverse plants and birds. At dusk, as the sun sets over Lamma Island, the south horizon is beautiful beyond words.
Ecological Highlights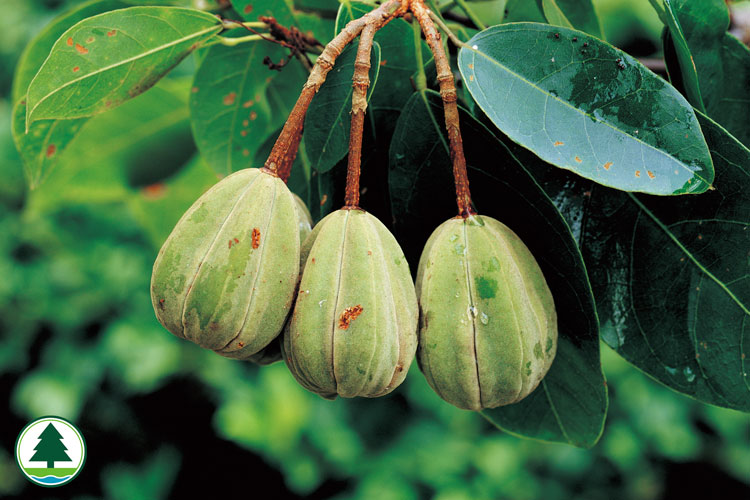 Reevesia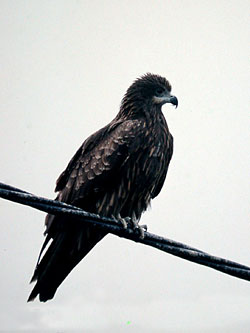 Black-eared Kite
Since the designation of Pok Fu Lam Country Park, Agriculture, Fisheries and Conservation Department has put in continued efforts to green the valley. Over the years, a great number of introduced species have been planted, such as Slash Pine (Pinus elliottii), Taiwan Acacia (Acacia confusa) and Brisbane Box (Lophostemon confertus), while major native trees include Hong Kong Gordonia (Polyspora axillaris) and Chekiang Machilus (Machilus chekiangensis). In 1999, as part of the government's bio-diversity programme, new plant varieties like Mountain Tallow Tree (Sapium discolor), Schima (Schima superba), Castanopsis (Castanopsis fissa), Lingnan Garcinia (Garcinia oblongifolia), Microcos (Microcos nervosa) and Chinese Banyan (Ficus microcarpa) were added to the park.
Common bird species of the valley are Black Kite (Milvus migrans), Chinese Bulbul (Pycnonotus sinensis), Crested Bulbul (Pycnonotus jocosus), Tree Sparrow (Passer montanus), Blue Magpie (Urocissa erythroryncha), Magpie Robin (Copsychus saularis), Great Tit (Parus major), Common Kingfisher (Alcedo atthis), Black-throated Laughing-thrush (Garrulax chinensis), Hwamei (Garrulax canorus), Koel (Eudynamys scolopacea), Greater Coucal (Centropus sinensis) and Spotted Dove (Spilopelia chinensis). Other inhabitants include Pallas's Squirrels (Callosciurus erythraeus) which are often seen chasing around bushes, and other mammals like Chinese Porcupine (Hystrix brachyura), Chinese Ferret Badger (Melogale moschata), Chestnut Spiny Rat (Niviventer fulvescens), Masked Palm Civet (Paguma larvata), Small Indian Civet (Viverricula indica), Chinese Leopard Cat (Prionailurus bengalensis) and Red Muntjac (Munitacus muntjak).
Scenic Beauty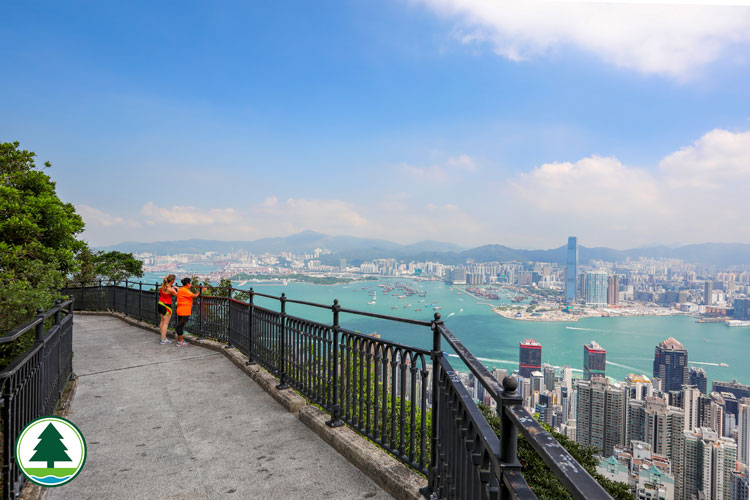 Lugard Road
Hong Kong Trail is a long distance hiking trail divided into 8 stages. Both Stage 1 and Stage 2 lie within the bounds of Pok Fu Lam Country Park. Starting at the Peak Tram Station, Stage 1 follows Lugard Road and the west end of Harlech Road before winding down to Pok Fu Lam Reservoir Road. 7 km in total length, it takes about 2 hours to complete. As Lugard Road is a wide level walk suitable for the whole family, this route is particularly popular with weekenders and sightseeing visitors to the Peak.
About halfway down Lugard Road, the heart of Hong Kong Island is spread right under your feet. Off the shore, Victoria Harbour and the mega towers that line the coasts make up a magical city skyline. For a more romantic mood, come on a misty spring day. There is a completely different atmosphere to be savoured. The grass flat at the end of Harlech Road offers panoramic views of Lamma Island and the southwestern region of Hong Kong Island. It is also a choice location for watching sunset.
The trail section that runs along the slopes north of Pok Fu Lam Reservoir overlaps with the Family Walk in some places. Cutting through arcadian plantations, it is a delectable route.
Stage 2 of Hong Kong Trail leads from Pok Fu Lam Reservoir Road to Peel Rise. Extending south for 4.5 km, the trail takes about 1.5 hours to complete. This shaded tree-lined trail lies within the borders of Pok Fu Lam Country Park. Beyond the Pok Fu Lam Service Reservoir and Lady Clementi's Ride, it trends south down the vehicular road that winds along the southwestern slopes of Mount Kellett by the catchwaters. Just a little distance ahead, Aberdeen and Ap Lei Chau come into view. Further up, a flight of steps take you down to Peel Rise in Aberdeen the end of Stage 2.