Sai Kung East
| | |
| --- | --- |
| Sai Kung East Country Park | |
Overview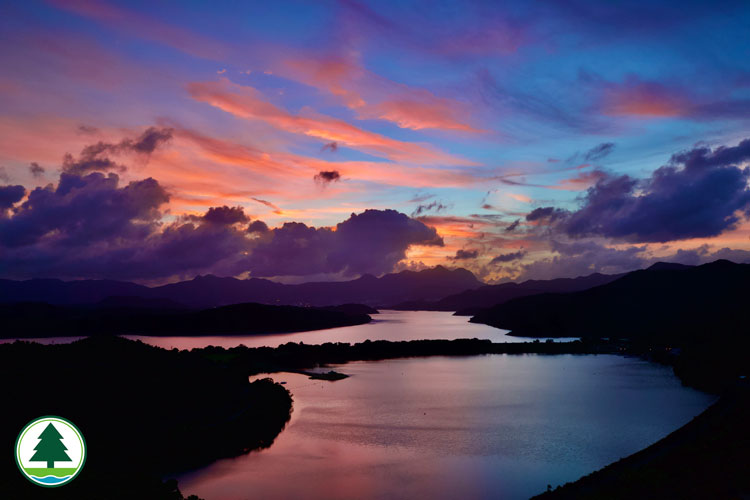 Sunset at West Dam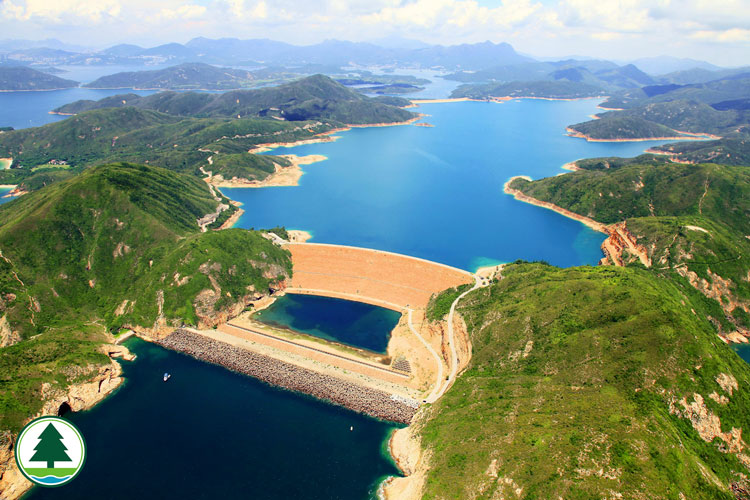 High Island Reservoir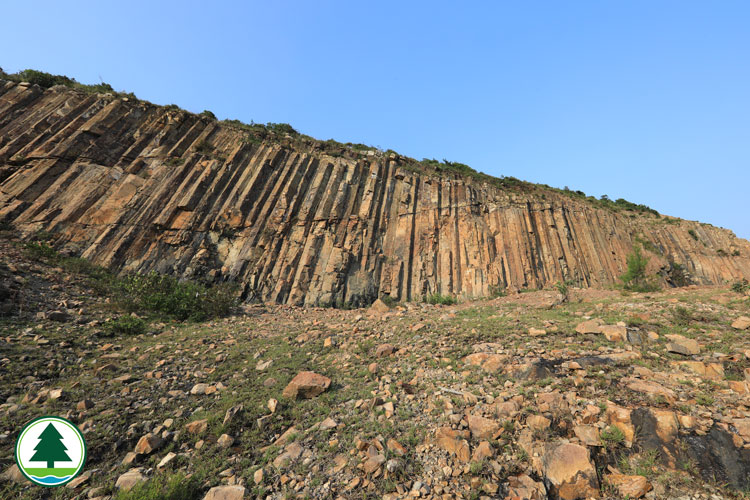 S-shaped Hexagonal Rock Columns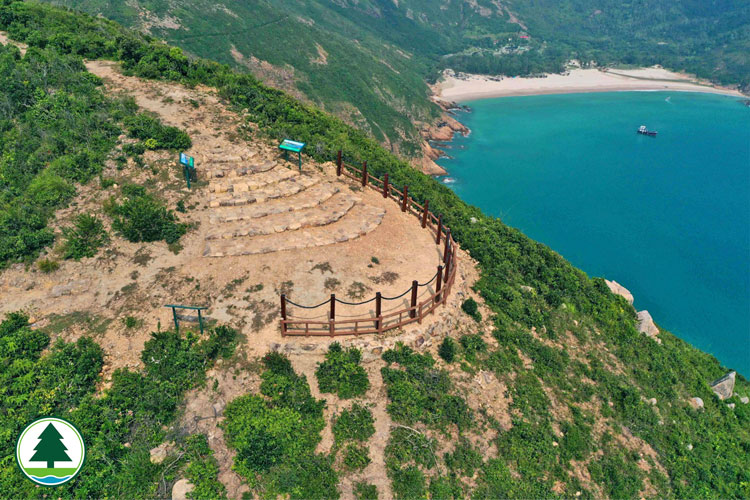 Biu Tsim Kok Viewing Point
Sai Kung East Country Park, designated in 1978, occupies a vast area of east Sai Kung Peninsula and High Island. Within its borders are High Island Reservoir, High Island, Tai Long Wan, Pak Tam Au, Sheung Yiu, Wong Shek Pier and the surrounding countryside. Covering 4,494 hectares of uplands and coasts, it has the largest number of bays and coves among all country parks. Scenic spots within the park are numerous. Examples include the four most famous beaches of Hong Kong - Sai Wan, Ham Tin Wan, Tai Wan, Tung Wan, and the precipitous Sharp Peak. Other attractions are Po Pin Chau, Long Ke Wan, Luk Wu, Long Harbour and Chek Keng. There is a wide choice of country trails. Some orbit around the coasts, while others travel through rugged and wild terrain.
High Island Reservoir is the largest reservoir in the territory, and the grandest man-made construction within the park. The east embankment of the reservoir is lined with a spectacular cofferdam with giant dolosse units, offset by striking rhyolite in hexagonal stacks. The reservoir commands a brand of beauty all of its own, enchanting both leisure travelers and geologists.
Sai Kung East Country Park extends along a long coastline. Farming never really developed in this scabrous region. In the old days, local villagers were mostly fishermen. Lime making was another means of livelihood. Inshore waters provided an abundant supply of coral skeletons and the old settlements at Sheung Yiu were major production bases of this once booming industry.
According to records made in the last five decades, there were 16 villages living on the east coast of Sai Kung. Today, Luk Wu and Po Kwu Wan are completely uninhabited, and Long Ke has become a drug rehabilitation centre for the youths. Lan Nai Wan was submerged to create High Island Reservoir, and Sheung Yiu is converted into a folk museum, with only a handful of households remaining. Pak Tam Au and Ko Lau Wan are the only two villages with a decent population. The other old settlements only have one or two permanent households. Some villagers come home on Sundays and holidays to offer refreshments or board or lodging to tourists.
Facilities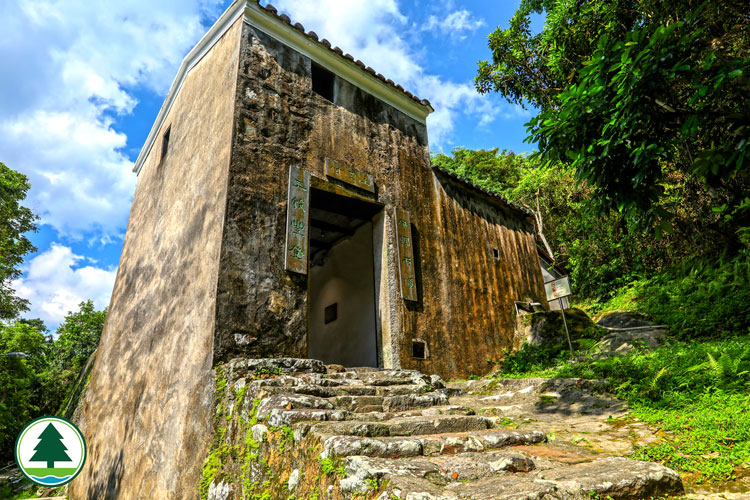 Sheung Yiu Folk Museum
Pak Tam Chung is the starting point of the famous MacLehose Trail. Skirting the south side of High Island Reservoir, the trail crosses 8 country parks to end at Tuen Mun in the west. Section 1 and Section 2 of MacLehose Trail run inside Sai Kung East Country Park. The first section is mostly level walk, with many side paths leading to coastal villages. Along the shores, you will find unusual rock formations, and the picturesque Long Ke beach never failing to charm. Section 2 starts at Long Ke. Beyond Sai Wan Shan, the great sweep of Tai Long Wan comes into view, accentuated by the ever striking presence of Sharp Peak in the background. This stage ends at Pak Tam Au.
The country park has three other country trails. Luk Wu Country Trail, designed for energetic and experienced hikers, offers lovely scenery of the Clearwater Bay peninsula, High Island Reservoir and Ma On Shan. Pak Tam Country Trail, formerly an ancient village path, gives coastal views of Kau Sai Chau, Yim Tin Tsai, Sharp Island and High Junk Peak. Sheung Yiu Country Trail is an easy level walk that overlooks inshore islands and bays like Tsam Chuk Wan, Yim Tin Tsai and Kau Sai Chau.
Pak Tam Chung Nature Trail is an ideal destination for field study and nature education. Starting at Pak Tam Chung, it travels to Sheung Yiu Folk Museum in Sai Kung Country Park. The route passes a beach on the way, where you can study plants commonly seen in beaches and wetlands, such as mangroves and Screw Pine (Pandanus tectorius), as well as bamboos, Sandpaper Vine (Tetracera asiatica) and Incense Tree (Aquilaria sinensis), all native species cherished by the rural community for their economic value.
To cater to family visitors, Sai Kung East Country Park offers Sheung Yiu Family Walk and Wong Shek Family Walk. Both walks have midway stops where you can take a rest, and most people can complete these courses in one or two hours. Also in the country park are two tree walks : Tai Tan Tree Walk and Wong Shek Tree Walk. These short walks are lined by interesting flora species with information plates.
Major Attractions
Sharp Peak
Towering 468 metres above the lowlands, Sharp Peak is the most prominent landmark of Sai Kung East Country Park. Ranking only 16th among Hong Kong's peaks, it is made famous by its sheer conical profile. Due to the difficult terrain, climbing up to the hill top is not recommended for safety reason.
Make a start at Section 2 of the MacLehose Trail. From Pak Tam Au, the trail ascends to Tai Long Au via Chek Keng, offering ravishing views of the coast. Tai Long Wan in Sai Kung is made up of four idyllic bays : Sai Wan, Ham Tin Wan, Tai Wan and Tung Wan. These remote beaches are scarcely visited on weekdays. Secluded and a bit wild, the mood is positively inviting. Gazing down from the trail, you see ocean waves rush to shore, rimming the indented coastline with foams of white.
Ecological Highlights
Grassy slopes are a special feature of Sai Kung East Country Park. Most peaks are covered by dense grassy vegetation. Dominant grassland plants are Minireed (Arundinella nepalensis), Duck-beak Grass (Ischaemum aristatum glaucum) and Linear Forked Fern (Dicranopteris linearis). In the shrublands down below, Common Melastoma (Melastoma candidum), Rose Myrtle (Rhodomyrtus tomentosa), Dwarf Mountain Pine (Baeckea frutescens), Shining Eurya (Eurya nitida) and Hong Kong Gordonia (Gordonia axillaris) are widely distributed, while rare species like Chinese New Year Flower (Enkianthus quinqueflorus), Chinese Lily (Lilium brownii) and Buddhist Pine (Podocarpus macrophyllus) are found occasionally. The sinuous coastline supports myriad coastal habitats and some unique flora species.
The Chinese Bulbul (Pycnonotus sinensis) is a frequent visitor to local shrublands, often seen pecking at berries. Other birds, such as Great Coucal (Centropus sinensis), Great Tit (Parus major), Japanese White-eye (Zosterops japonica) and Magpie (Pica pica), prefer habitats with denser vegetation. In old fung shui woods, wintering birds like Pittas migrating south from Mainland China are common, while Kingfishers are often seen preying near streams. Larger mammals are mostly nocturnal and seldom sighted. Recorded species are Small Asian Porcupine (Hystrix brachyura), Chinese Pangolin (Manis pentadactyla), Masked Palm Civet (Paguma larvata), Chinese Leopard Cat (Felis bengalensis), Wild Boar (Sus scrofa) and Burmese Python (Python molurus bivittatus).
Scenic Beauty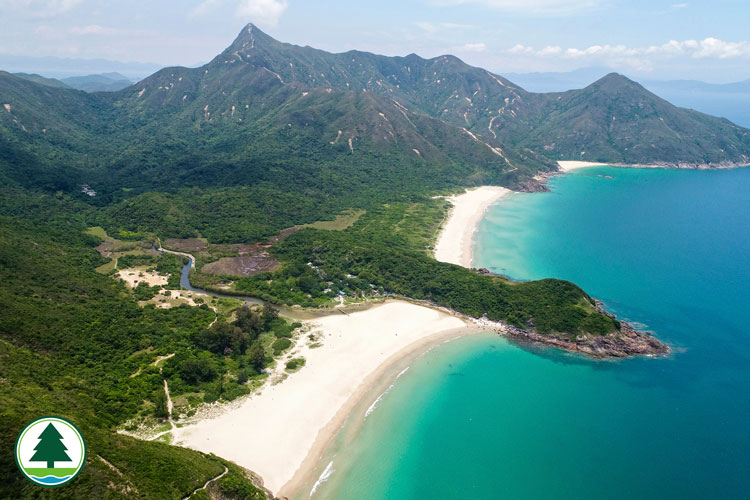 Ham Tin Wan
As mentioned earlier, Sai Kung East Country Park has the largest number of bays and coves. Sai Wan, one of the coves within its boundaries, is the most famous beach in Hong Kong. Together with Ham Tin Wan, Tai Wan and Tung Wan, it makes up Tai Long Wan, the jewel of Sai Kung's idyllic coastline. This remote seaside haven draws visitors from near and far. Some hikes across the hills are in her bosom while the others come by sea.
Sai Wan is blessed with ideal landscape. Divided into two beaches, it is fed by a flowing stream at both ends. The south bay is a sheltered inlet that remains calm even in summer when the south wind blows. It is a perfect anchorage for pleasure boats. The north bay boasts a wide sandy beach with rushing swells. Inland, behind the beaches, you find the outlet of Sheung Luk Stream. Four Pools, a series of midstream plunge pools, is a well known tourist attraction.
The arch of Tai Long Wan is home to many flora species of special scientific interest, including Dense-flowered Geodorum (Geodorum densiflorum), a plant that can adapt to high-salinity sandy bottom habitats, and the rare Glehnia littoralis. To preserve these natural assets, Tai Long Wan has been declared a Site of Special Scientific Interest.