Conservation of fisheries resources
The Government pursues a number of fisheries management and conservation measures to conserve the fisheries resources in Hong Kong waters and promote the sustainable development of the Hong Kong fisheries industry.
Ban trawling in Hong Kong waters
The Legislative Council has passed the legislative amendments to ban trawling (including pair, stern, shrimp and hang trawling) in Hong Kong waters with the aim to protecting the precious marine resources and ecosystem, so that the damaged seabed and depleted marine resources can rehabilitate as soon as possible. The trawl ban came into effect on 31 December 2012.
To assist the fishermen affected by the trawl ban, the Government introduces a one-off assistance scheme in order to alleviate the impact on their livelihoods brought about by the trawl ban. The scheme includes:
making ex-gratia payments to affected trawler owners;

buying out affected inshore trawlers from trawler owners who voluntarily surrender their vessels; and

providing one-off assistance to affected local deckhands employed by the affected inshore trawler owners and affected fish collector owners.
Some of the bought-out trawlers will be processed and deployed as artificial reefs, which are conducive to enhancing the rehabilitation of the fisheries resources and improving the marine habitat in Hong Kong waters. The Government introduces a special training programme to the affected trawler fishermen and their local deckhands with a view to equipping them with the skell and knowledge for switching to other sustainable fishing operations such as mariculture and recreational fishing.
Artificial reef project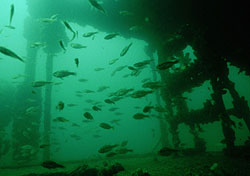 Since 1996 AFCD has been implementing an artificial reef project to enhance fisheries resources and promote bio-diversity in Hong Kong 's marine environment. Artificial reefs are recognised world-wide for their ability to encourage growth and development of a great number and variety of marine organisms, which in turn provide food, shelter and protection for fish. They are an excellent fisheries resources enhancement tool for much of Hong Kong 's open sea-bed, where habitat is limiting the variety and abundance of reef fish. A total of 673 units of artificial reefs with a total volume of over 179,200 cubic metres has been deployed in suitable waters of Hong Kong such as marine parks, fish culture zones, and important spawning and nursery grounds. Results of underwater monitoring survey revealed that the deployed artificial reefs supported a higher diversity and abundance of fish species as compared with natural habitat. Over 220 species of fish, including many high-valued species such as groupers, breams, snappers and sweetlips, are using the reefs for feeding, shelter and as spawning and nursery areas.
Please visit our website on Artificial Reef Project for more information.
Restocking
Restocking of fish, crustacean (mainly prawn and crab), mollusk (e.g. abalone and clam) and echinoderm (sea urchin) to augment marine resources has been commonly practiced in many places. The department is planning to release species suitable for Hong Kong waters in appropriate locations with a view to enhancing the fisheries resources in Hong Kong waters.
Impacts of development works
Assessment of potential environmental impact on fisheries is required for development projects involving foreshore and seabed, in accordance with the Environmental Impact Assessment Ordinance (Cap. 499). Criteria and guidelines and for fisheries impact assessment can be found in Annexes 9 and 17 of the Technical Memorandum on Environmental Impact Assessment Process. The department provides professional advice and technical assistance in the assessment of fisheries impacts of development projects as well as assessment of ex-gratia allowance for fishermen who are adversely affected by development projects.
Other fisheries management measures
To bring the fishing industry back to a sustainable path, the Government has amended the Fisheries Protection Ordinance (Cap. 171) to implement a series of fisheries management measures to control the fishing effort in Hong Kong waters and protect important fish spawning and nursery grounds. These measures include setting up a registration system for local fishing vessels, limiting new entrants and maintaining an appropriate level of fishing effort, restricting fishing activities of non-fishing vessels and prohibiting fishing activities of non-local fishing vessels, and designation of fisheries protection areas.
The Fisheries Protection (Amendment) Ordinance 2012 came into effect on 15 June 2012.
Committee on Sustainable Fisheries
The Committee on Sustainable Fisheries was established in 2006 to study the long-term goals, the direction, and feasible options for the sustainable development of the local fisheries industry. Its recommendations, put to and accepted by the Government in 2010, form the basis of the various fisheries management measures that are currently being rolled out. These include the trawl ban, the registration of local fishing vessels, and eventual designation of fisheries protection areas in Hong Kong waters to protect important fish nursery and spawning grounds etc.
Report on Survey of Fisheries Resources in Hong Kong (2010-2015)
To assess the effectiveness of the implementation of the trawl ban and other relevant fisheries management measures on the recovery of fisheries resources in Hong Kong waters, AFCD has initiated the monitoring of local fisheries resources and commissioned the South China Sea Fisheries Research Institute (SCSFRI) to perform the scientific analysis of the data. The results of this study generally demonstrate signs of recovery of the fisheries resources in Hong Kong.
For more information, please refer to the executive summary of the report.
Report on Survey of Fisheries Resources in Hong Kong (2010-2015)
Main Commercial Families of Fisheries Resources in Hong Kong
[Download Acrobat Reader to open PDF file]
| | |
| --- | --- |
| | Telephone No. |
| Ban trawling in Hong Kong waters and other fisheries management measures | 2150 7108 |
| Hong Kong Artificial Reef Project | 2873 8352 |
| Fisheries Impact Assessment | 2873 8376 |
| Ex-gratia Allowance | 2150 6634 |