The development of Organic Farming in Hong Kong has only a very brief history. It all began in 1988 when an environmental education group - Produce Green (presently known as Produce Green Foundation) started an educational farm using environmentally friendly cultivation practices to raise crops and promote green living. Their initiatives had helped to sow the seed for the future development of organic farming in Hong Kong. Around the same period of time, another organization, Hong Kong Organic Agriculture & Ecological Research Association, also had done a lot of work in promotion of organic farming. During the 90's, more people had shown interest in organic farming. In 1999, a group of avid farmers have started the Hong Kong Organic Farming Association, HOFA (presently known as Sustainable Ecological Ethical Development Foundation, SEED). Back then, there were only about ten organic farms with small acreages, the organic crops produced could only meet the demand of very few people.

Vegetable Marketing
Organization (VMO)
During the 90's, the local agricultural sector continued to decline due to rapid urbanization and the profound shift in the economic structure. Amid growing public concerns over food safety and environmental protection, the government had begun to promote organic farming. While organic farming can produce food in an environmentally friendly and sustainable manner and better protect our farmlands and countryside, it can also open up a niche market that can bring in a premium for local farmers. Moreover, it can offer a wider and better choice of fresh vegetables to local residents. In December 2000, the Agriculture, Fisheries and Conservation Department (AFCD) had launched an "Organic Farming Conversion Scheme " to assist conventional farmers to switch to organic farming. A protocol for organic crop production was also compiled to provide a technical guide for farmers desired to enter conversion. Working closely with the Department, the Vegetable Marketing Organization (VMO) and the Federation of Vegetable Marketing Co-operative Societies Ltd. (FVMCS) provide technical and marketing support to organic farmers.

In order to further develop the local organic industry and provide confidence to consumers, it is necessary to have an organic certification service carried out by an independent, third-party body. With a grant from the Agricultural Development Fund of the Vegetable Marketing Organization (VMO), the Hong Kong Organic Resource Center (HKORC) was established in December, 2002. The HKORC began to work on a set of organic production and processing certification standards applicable to Hong Kong. After comprehensive consultations with the industry and interested parties, the standards were completed in 2004. In December 2004 , the HKORC had launched its independent organic certification service for organic farmers and organic food processors.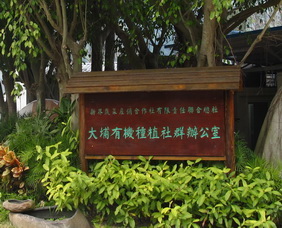 The FVMCS is a local farmer's organisation which greatly supports the development of organic farming. To better serve their members, of whom, many are organic farmers, the FVMCS had set up the Community Growers Group (CGG) Office in November 2004 aimed at assisting farmers in organic certification application, providing farmers with quality organic seedlings and promoting local organic produce through agri-tourism and direct sales.