Conservation of sea turtles in Hong Kong
The Sham Wan Restricted Area
The sandy beach at Sham Wan, Lamma Island is the only regular nesting site of Green Turtles known in Hong Kong. The site is also one of the few remaining nesting sites in Southern China. Therefore, the site is very important to the survival of this highly endangered species in both local and regional contexts. To recognize the scientific significance of the area, the sandy beach and the nearby shallow water has become a Site of Special Scientific Interest since June 1999.
The number of female Green Turtles nesting in Sham Wan is small and there would not be nesting every year. The protection of this remnant nesting population is therefore very important and a variety of tools have been used to achieve this purpose.
Management of the Sham Wan nesting site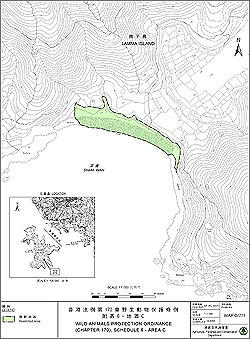 Click image to enlarge
Restricted Area
In order to minimize disturbance to sea turtles, their nests and eggs, there is a need to restrict access to the beach area during the nesting season. Designation of Restricted Area under the Wild Animals Protection Ordinance Cap.170 serves this purpose.
On 30 July 1999, the Secretary for the then Planning, Environment and Lands made, under the Wild Animals Protection Ordinance (Cap.170), the Wild Animals Protection Ordinance (Amendment of Schedule 6) Notice 1999 to specify the sandy beach of Sham Wan as a Restricted Area. The Restricted Area is about 0.5 hectare in area. The restricted period is from 1 June to 31 October.
Illegal entrance is liable to a maximum fine of HKD50,000. In general, entrance for general visit or leisure purposes would not be permitted. During the restricted period, patrol would be conducted by the nature wardens to control unauthorized activities and to monitor the nesting activities of green turtles.
Climber and garbage clearance
Before the onset of the nesting season each year, we will also carry out conservation management for the nesting site. The work includes arranging contractors to remove climbers like Beach Morning-glory (Ipomoea pes-caprae) and Vitex rotundifolia. The latter is extensively rooted and difficult to control. These climbers obstruct the turtles from making their nest and their hatchlings from entering the sea. If female turtles are unable to penetrate the climber thicket and have to make nests closer to the sea, the eggs would have a higher chance of being flooded.
| | |
| --- | --- |
| Nature wardens freeing a female green turtle from the vines | Marine garbage deposited on Sham Wan, Lamma Island in 2005 summer |
Garbage poses the same problem to sea turtles. While the contractors of the Food and Environmental Hygiene Department are responsible for clearing garbage on beaches, there are cases that garbage kept deposited onto the shore throughout the summer. You can help us by keeping our beach clean !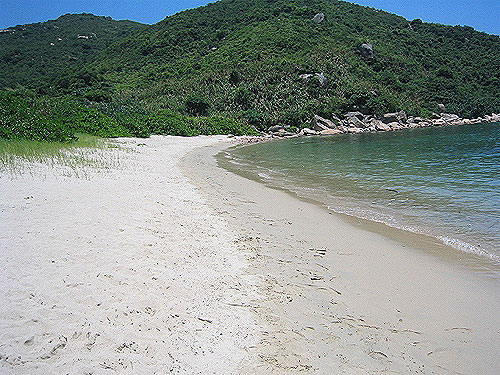 A clean beach for the nesting turtle