Lantau North (Ext.)
| | |
| --- | --- |
| Lantau North Country Park & Extension | |
Overview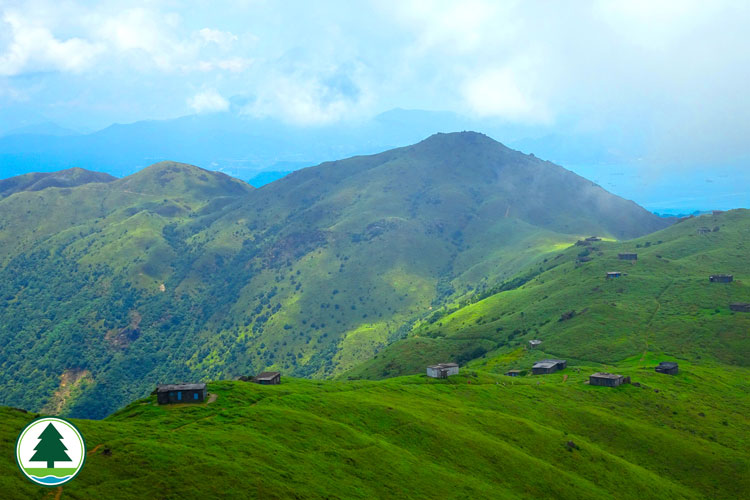 Yi Tung Shan
Lantau North Country Park was designated in 1978. Occupying a total area of 22 square kilometres, it encompasses Sunset Peak, Yi Tung Shan, Lin Fa Shan, northern slopes of Lantau Peak, Nei Lak Shan and the region north of Ngong Ping. To the north of the country park you find the Tung Chung new town and North Lantau Highway, both modern developments emerging in recent years. On the two flanks, Lin Fa Shan and Nei Lak Shan stand guard in the east and west. Lin Fa Shan is a peak rising 766 metres above the lowlands. Just one kilometre to its north a row of three crests form a lofty platform. Known as the Three Towers, these uplands offer spectacular vistas of the nearby country. Gazing east, you enjoy a panorama of Mui Wo. Gazing north, there is a broad view of Tai Ho Wan, North Lantau Highway and distant islets that look like drifting sail boats.
Tung Chung Valley is a choice destination. Striking a sharp contrast with the ultra modern Chek Lap Kok Airport and Tung Chung new town, the serene valley is a beckoning haven. To visit this green sanctuary, get on the country trail that begins in Ngong Ping. This enjoyable walk passes through woodlands and streams where a host of dragonflies, freshwater fish and amphibians breed and feed.
Lantau North (Extension) Country Park adds another 2,360 hectares to Hong Kong's country park area. It is mainly mountainous and upland valleys covered with natural woodland and unspoiled stream courses, which provide a highly scenic backdrop to the urban development at Tung Chung. The upland areas also offer magnificent views of the airport to the north, rural and wilderness mountainous areas to the south. The well established areas of secondary woodlands, shrubland, grassland and fresh water habitats are of high conservation and landscape value.
Major Attractions
Wong Lung Hang Country Trail in the eastern part of Lantau North Country Park is a notoriously challenging hike. Rated the most difficult country trail in Hong Kong by hikers, this 2.3 km route takes about 1 hour 45 minutes to complete. Beginning at Yi Tung Shan, it trails down to Wong Lung Hang Road in Tung Chung. Don't let its short distance fool you, for the first half of the trail is all treacherous steps and the dense forest canopy almost completely blocks out sunlight. The going is tough and securing a steady footing on the moss-covered ground is a major challenge. Demanding it may be, this country trail offers an unbeatable panoramic view of Chek Lap Kok Airport.
Tung Chung Fort is a Lantau battery sharing equal fame with Fan Lau Fort. Sitting near Sheung Ling Pei Village in Tung Chung Valley, it is a 70 x 80m position with 6 ancient guns and restored granite boundary walls. The fort became a listed monument in 1979, and full restoration work was carried out in 1988 to reinforce fort walls and repair the watch tower. Bringing back memories of the past, Tung Chung Fort is well worth visiting. It is also a vantage point to enjoy the beautiful coastal scenery of North Lantau.
Facilities
When it comes to size and facilities, Lantau North Country Park does not match up to Lantau South Country Park. Most visitors come here to hike. One of the hiking routes is the Tei Tong Tsai Country Trail in the north. This path leads from Tung Chung Road to Tei Tong Tsai. The Country Park Management Centres are located at Lantau South Country Park and Lantau North (Extenstion) Country Park.
Wong Lung Hang Picnic Site
Wong Lung Hang Picnic Site is located in Wong Lung Hang Road, Tung Chung, connecting to Yi Tung Shan by Wong Lung Hang Country Trail. The picnic site is adjacent to Wong Lung Stream features with picturesque landscape. A jogging trail with wide range of fitness equipments are installed for fitness training. Other facilities such as rain shelters, picnic benches and chairs, wooden animal-like models are also provided.
Ecological Highlights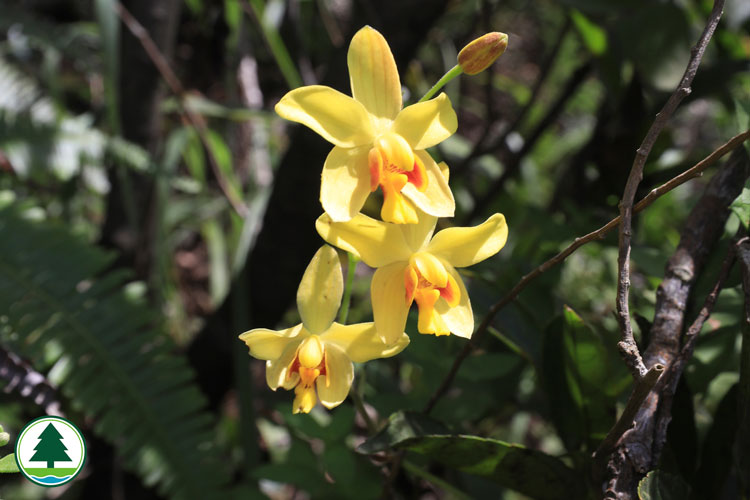 Buttercup Orchid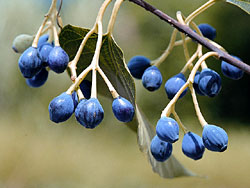 Chinese Alangium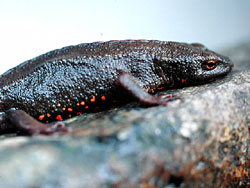 Hong Kong Newt
Most streamside areas within Lantau North Country Park are thick woodlands with diverse flora. Common species are Hong Kong Gordonia (Gordonia axillaris), Rhododendrons and Azaleas, Orchids, Schima (Schima superba), Chinese Alangium (Alangium chinense), Wax Tree (Rhus succedanea), Uvaria (Uvaria macrophylla) and Hong Kong Asarum (Asarum hongkongense).
North Lantau is also home to Hong Kong's many iconic rare animals. Prime examples are the Chinese White Dolphins (Sousa chinensis) which are active in the western waters. "Dolphins in the Waves" is a famous sight of the park. These adorable animals always draw a big crowd on weekends and holidays. Other wildlife found locally include common mammals like the Chinese Ferret Badger (Melogale moschata), Red Muntjac (Muntiacus muntjac) and Eurasian Wild Pig (Sus scrofa); reptiles like Burmese Python (Python molurus bivittatus) and Blue-tailed Skink (Eumeces quadrilineatus); as well as the Hong Kong Newt (Paramesotriton hongkongensis), a native amphibian first recorded in Hong Kong and often found resting in hill streams and rock pools. If you happen to visit in the cooler months, you might see newts of both sexes congregating by the stream, or even see mating males fighting over females.
Scenic Beauty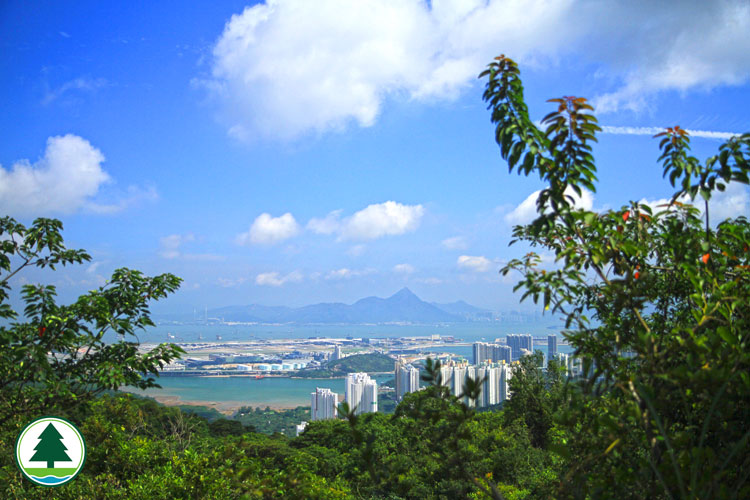 Overlooking Tung Chung from Tei Tong Tsai Country Trail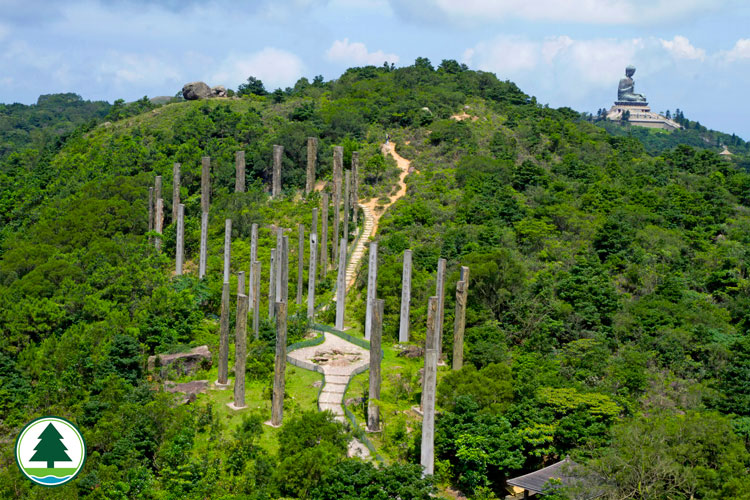 Wisdom Path
The 6.5 km Fa Mun Traditional Path starts at Dong Shan Fa Mun. It trails through Po Lam Monastery, Lo Han Monastery, Shek Mun Kap, Shek Lau Po and Wong Ka Wai to end at the Ma Wan Chung Ferry Pier. Scenery along the way is sylvan and refreshing, with forests and hill streams to soothe your body and soul. There is also an aerial view of the Hong Kong International Airport and a chance to visit famous ancient temples.
The Tei Tong Tsai Country Trail is a 2 km route that takes only 45 minutes to complete. In the past, the only way to get from Tung Chung to Ngong Ping was to make your way to Tei Tong Tsai from Shek Mun Kap via Shek Pik Au, and then continue on to Ngong Ping and Po Lin Monastery. With Tung Chung Road now open, hikers can reach Ngong Ping from this vehicular road. The Tei Tong Tsai Country Trail is a level easy walk. About 200 metres from the starting point, you find East Lantau Stream, a rushing cascade plunging down from the northeastern face of Lantau Peak. The rapid torrent is exhilarating, with splashes and sprays to wash away air pollutants and worldly worries. Further up, about 300 metres ahead, a protruding ridgeline marks the landscape. This high point gives spectacular vistas of North Lantau's rugged terrain. Looking east, you see the majestic Sunset Peak. Looking northeast, Shek Sze Shan and Wo Liu Tun surge above the lowlands. Looking north, the Tung Chung alluvial plain lies peacefully on the coast. The plain is marked by a sprawling network of tributaries and rural hamlets. At this point, the trail bends around the slope to cross a rock stream via a level bridge. At the other side of the crossing the country trail comes to an end. To visit Tei Tong Tsai, turn left at the end of the trail. The nearby woodlands and ravines harbour many monasteries and religious recluses. Visitors should remember not to make noise while enjoying the poetic scenery.
Lo Fu Tau Country Trail is about 3.4 km in total length, takes about 1.25 hours to complete the walk. Set off from Pak Ngan Heung in Mui Wo or Pak Mong Village in Tung Chung in an hour, to reach A Po Long, the starting point of Lo Fu Tau Country Trail. You can take a break in the pavilion before take off your journey. As it is quite exposed along the trail, it is important to take enough food and water and have yourself properly protected against the direct sunlight. Along the trail are fine extensive views and interesting rocks overspread on mountains with most of them lie in sight beside the trail. The interesting stone groups are varied in shape: some as if cut by edge tools and some like blocks neatly stacked up. For example, a springboard-like stone on the top of the mountain is so ingeniously embedded in the stone groups that it is nothing short of a divine work. What is more amazing is the peach-shaped huge stone standing in the middle of the road, which seems like a sculpture by human. It is no wonder that some imaginative hikers name them "Sword Testing Stone", "Strange Duck Stone", "Peach Stone", etc. These differently shaped stones all display their unique features against the blue sky and white cloud, seeming that they are vying with each other for glamour, which is really a feast to the eye. When you get to the plains, you will have an endless view that delights both the body and mind. At the end of the trail, you will find, quite interestingly, that the "Tiger's head" ("Lo Fu Tau" in Cantonese) is visible only from behind the Tiger towards the nape. Looking down from Lo Fu Tau, you will see Discovery Bay, seeming like "a tiger glaring at Discovery Bay".