HONG KONG : THE FACTS - Country Parks and Conservation
HONG KONG : THE FACTS - Country Parks and Conservation

COUNTRY PARKS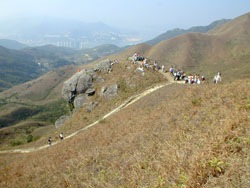 Country Park
Although Hong Kong is one of the world's metropolis, out of the total 1 108 square kilometres of land, about three-quarters is countryside. Scenically, Hong Kong has a great deal to offer: a landscape rising from sandy beaches and rocky foreshores to heights of almost 1 000 metres, woodlands and mountain ranges covered by open grassland and a variety of scenic vistas rarely, if ever, matched in so small a territorial unit.
The Country Parks Ordinance provides a legal framework for the designation, development and management of country parks and special areas. It provides for the establishment of Country and Marine Parks Board to advise the Director of Agriculture, Fisheries and Conservation on all matters related to country parks
and special areas.
A total of 24 country parks have been designated for the purposes of nature conservation, countryside recreation and outdoor education. There are 22 special areas created mainly for the purpose of nature conservation.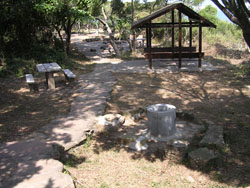 Facilities
The Parks: The country parks and special areas cover a total area of 443 square kilometres. The country parks comprise scenic hills, woodlands, reservoirs and coastline in all parts of Hong Kong. The Agriculture, Fisheries and Conservation Department (AFCD) manages the parks and is responsible for tree planting, litter collection, fire fighting, development control and provision of recreation and education facilities. The country parks are very popular with all sectors of the community and spending a day in a country park is one of the best recreational choices in town. About 11.2 million visitors were recorded in 2014 and most visitors engaged in leisure walking, fitness exercises, hiking, barbecuing, family picnics and camping.
Facilities: Park facilities provided in recreational sites include tables and benches, barbecue pits, litter bins, children's play apparatus, shelters, campsites and toilets which are all carefully designed to blend with the environment.
Footpaths and family walks provide easy access to the hills and the woodlands for visitors to enjoy the scenic beauty. Major paths are being improved and waymarked through the hilly terrain.
Hiking becomes more popular nowadays. The four long-distance hiking trails are very popular among hikers. The MacLehose Trail (100 km) traverses the New Territories from Sai Kung in the east to Tuen Mun in the west. The Lantau Trail (70 km) is a circular trail on Lantau Island. The Hong Kong Trail (50 km) traverses all the five country parks on Hong Kong Island. The Wilson Trail (78 km) stretches from Stanley in the south of Hong Kong Island to Nam Chung in the north of the New Territories.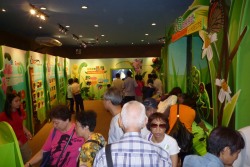 Insectarium, Lions Nature Education Centre
Education and Visitor Service: Many facilities are provided to help visitors to gain a better understanding and appreciation of the countryside. Visitor Centres have been established at Ngong Ping in Lantau, Aberdeen, Sai Kung, Clear Water Bay, Shing Mun and Tai Mo Shan. The Woodside situated at 50 Mount Parker Road in Quarry Bay retains its vigor as the Woodside Biodiversity Education Centre to introduce Hong Kong's precious nature resources and biodiversity. The Lions Nature Education Centre at Tsiu Hang Special Area in Sai Kung is a special attraction to visitors as it consists of five exhibition halls of different themes, a rich collection of fruit-bearing and amenity trees, vegetables, rocks and minerals and other local vegetation. The Shing Mun Arboretum has a collection of about 300 plant species.
Along nature trails and tree walks, there are on-site interpretative plates for those who wish to study the nature. Apart from the interpretative plates, AFCD launched the "Country Parks Tree Walks" mobile application, web page, mobile game application "Forester", and published a new book to introduce 96 tree species and other interesting plants along the 16 Country Parks Tree Walks to promote tree conservation in Hong Kong country parks. Outdoor Study Centre, Butterfly Garden and Ecological Garden were set up at Tai Po Kau, Shing Mun and Tai Lam respectively to promote nature exploration.
Furthermore, AFCD provides conservation education programmes for nature lovers, students and the general public every year. An array of activities under the "Nature In Touch" Country Parks Education Programme such as "Country Park Volunteer Programme", " Hiking and Planting Day", "Great Outdoors Hong Kong" , "Country Parks Reporters", and various kinds of guided tours, outdoor studies, public lectures and workshops have been organized. In 2014, about 280 600 persons participated in these conservation programmes. To encourage public enjoyment of nature, AFCD produced more than 100 field guidebooks on various topics including Country Parks, animals and plants for public's reference and procurement. The department also promotes hiking safety through exhibition, web page and develops mobile application "Enjoy Hiking".
MARINE PARKS
The Marine Parks Ordinance protects and conserves the marine environment and a rich collection of aquatic animals and plants, such as corals, sea grasses and dolphins. The ordinance also provides the legal framework for the designation, control and management of marine parks and marine reserve. The Marine Parks and Marine Reserve Regulation provides for the prohibition and control of certain activities in marine parks and marine reserve. At present, there are six marine parks and one marine reserve.
The Parks/Reserve: Hoi Ha Wan Marine Park, Yan Chau Tong Marine Park, Sha Chau and Lung Kwu Chau Marine Park, Tung Ping Chau Marine Park, The Brothers Marine Park, Southwest Lantau Marine Park and Cape D'Aguilar Marine Reserve cover a total area of 4 050 hectares and comprise scenic coastal areas, seascapes and important marine habitats. Marine parks and reserve are managed for conservation, education, recreation and scientific studies. In marine parks, visitors are encouraged to appreciate the beauty and diversity of marine life. Diving, snorkeling, swimming, canoeing, sailing, underwater photography and school visits are popular activities in marine parks.
Conservation and Education: In marine parks, a multiple use approach is adopted. Activities compatible with the objectives of marine parks and non-destructive to the marine environment are allowed. Activities destructive to marine environment and coastal features such as trawling, unauthorised fishing, hunting or collecting of marine life are prohibited. On-site information boards, mooring buoys and markers are installed. Educational activities such as guided tours, beach clean-ups, and public lectures are regularly organised. In marine reserve, recreational activities are prohibited and the area is protected for nature conservation, education and scientific studies.