Ma On Shan
| | |
| --- | --- |
| Ma On Shan Country Park | |
Overview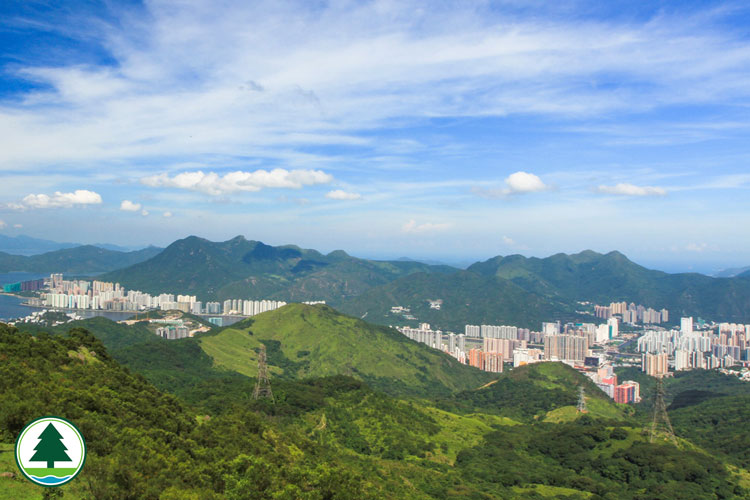 Ma On Shan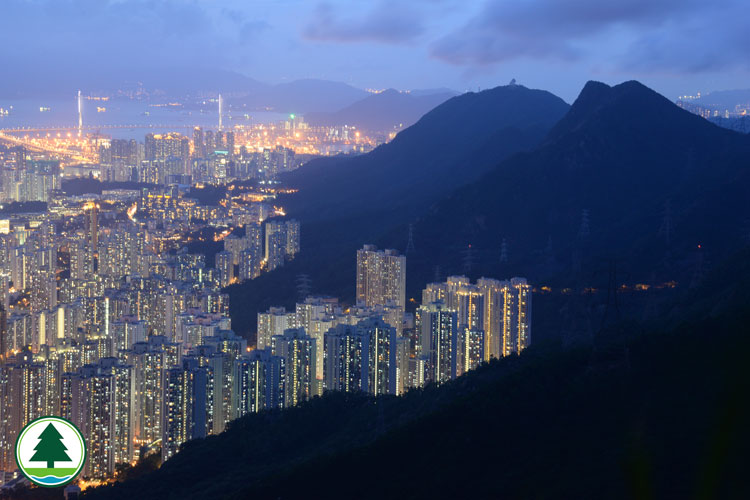 Night Scenery at Kowloon Peak
Ma On Shan Country Park commands a site of 2,880 hectares in the Eastern New Territories. Named after Ma On Shan, the mountain range that sits largely inside the park, it forms a wide green belt for leisure and recreation activities in the Ma On Shan region with the neighbouring Sai Kung West Country Park and Lion Rock Country Park.
Designated in 1979, Ma On Shan Country Park covers inland uplands as well as Hebe Haven that lies between Pak Sha Wan and Port Shelter. More prominent landmarks of the region are Ma On Shan, the Hunch Backs, Pyramid Hill, Tate's Cairn and Kowloon Peak. The park has quite a few famous sights : Kowloon Peak with its panoramic cityscape, Grave of Dr. Sun's Mother in Pak Fa Lam, and the ever popular Gilwell Campsite.
Ma On Shan is a notoriously treacherous terrain, with rugged hill trails conquerable only by the fit and experienced. More beaten tracks include the Ma On Shan Country Trail, Kei Ling Ha Tree Walk, Section 4 of the MacLehose Trail and Section 4 of the Wilson Trail. Section 4 of the MacLehose Trail and Ma On Shan Country Trail pass through the scenic Ngong Ping Plateau where broad vistas extend to the far distance.
Major Attractions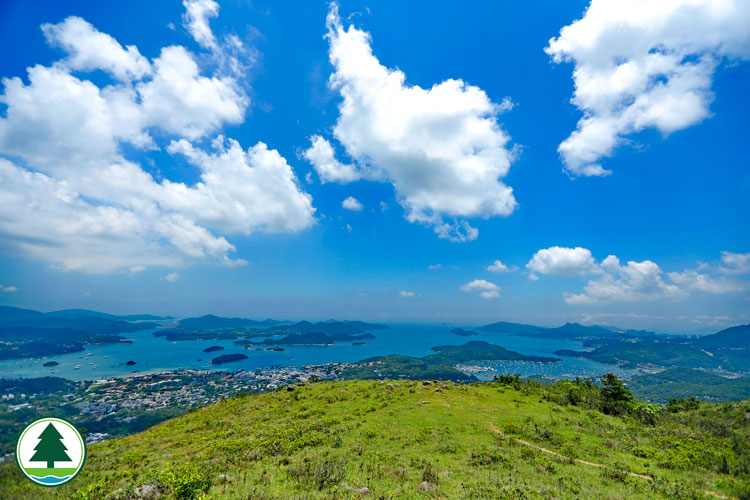 Overlooking Inner Port Shelter from Ngong Ping Plateau
Ma On Shan, rising 702 metres above sea level and standing opposite to the Hunchbacks, gets its Chinese name from the saddle-shaped passes, known to hikers as the "head saddle" (The Ma On Shan main peak) and "end saddle" (the Hunch Backs). Ma On Shan's striking profile is visible in many parts of the New Territories.
What makes Ma On Shan Country Park extraordinary is that it is a dividing line set between Sai Kung Peninsula and Shatin. To avoid a challenging climb from the northeastern slopes, hikers can set off from the south and make their way to the top via Ngong Ping Plateau. There are several hill paths leading to Ma On Shan on the western slopes of Pyramid Hill.. For the summit, follow the gravelly path uphill. Below the apex of this imposing range, Hong Kong showcases her grandest landscape a panoramic view from Tolo Channel in the north to Sai Kung Peninsula in the east.
For your descent, take the winding hill path that trails down the eastern slopes. Negotiating your way through ravines and hidden valleys, you find yourself in secluded countryside unspoiled by human activities, where beautiful rare flora flourishes. To preserve these natural treasures, the government has designated these lowlands as a Special Area.
Facilities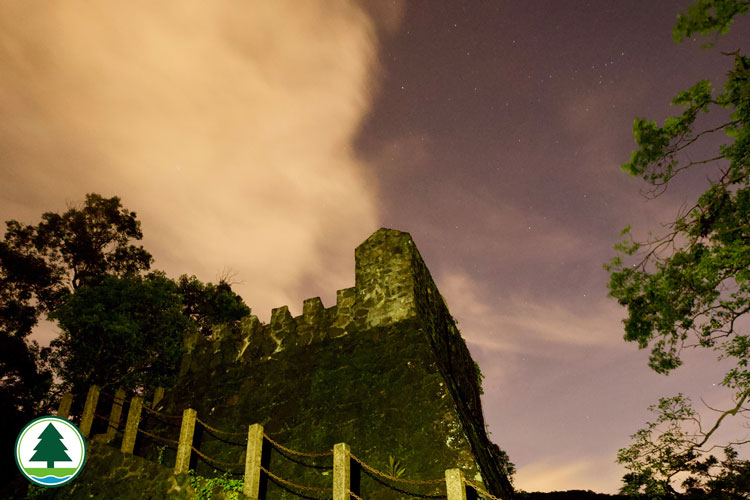 Stargazing Platform at Shui Long Wo
Ma On Shan Country Park has several barbecue areas : Shui Long Wo, Kei Ling Ha, Nai Chung and Ma On Shan Village. The ones at Ma On Shan Village and Nai Chung are well loved by holiday-makers. For campers, there are campsites in Ngong Ping and Shui Long Wo.
Hiking trails came in many lengths and forms. The 650 m Kei Ling Ha Tree Walk starts at Shui Long Wo and provides information of 13 feature trees and plants. Stage 4 of the Wilson Trail is a hiking trail that starts at Tseng Lan Shue. The wooded lane travels west to Shatin Pass along a traditional trail, passing through Tung Yeung Shan, Kowloon Peak, Tate's Cairn and other sights inside Ma On Shan Country Park. This hike takes about 3 hours to complete. Stage 4 of the MacLehose Trail begins at Shui Long Wo in Kei Ling Ha. The trail winds up and down the uplands of Pyramid Hill, Ngong Ping, the Hunchbacks, Tate's Cairn and the nearby region, and ends in Gilwell Campsite of Tate's Cairn. It is a 5-hour hike.
Ecological Highlights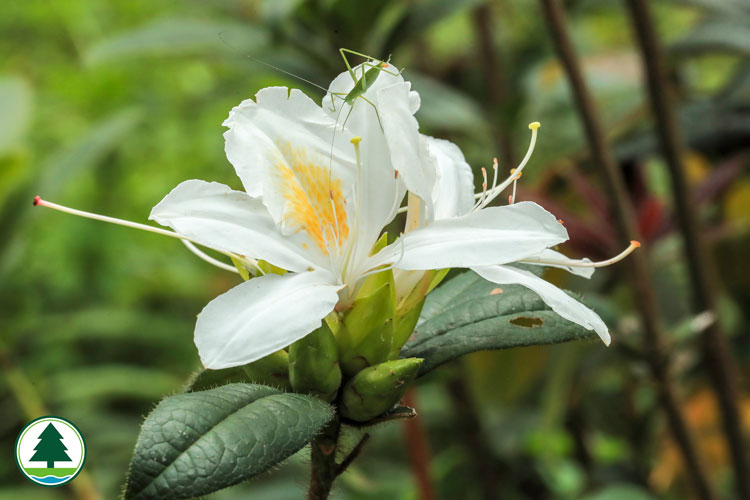 Champion's Rhododendron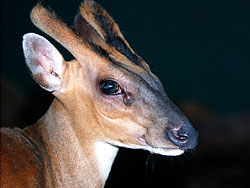 Common Muntjac
Most uplands within the bounds of Ma On Shan Country Park are covered by sparse vegetation with no sign of trees. On these hostile volcanic hills, only hardy and highly adaptable plants survive. Occasionally you may spot some rare flora species, such as wild rhododendrons, orchids and uncommon ferns growing on the precipitous slopes of Ma On Shan. By contrast, hillocks on the remote promontory of Hebe Haven are well vegetated.
The natural environment of Ma On Shan is relatively undisturbed. This invaluable sanctuary gives shelter to many wildlife species. More common mammals are Chinese Pangolin (Manis pentadactyla), Chinese Porcupine (Hystrix brachyura), Wild Boar (Sus scrofa) and Common Muntjac (Munitacus muntjac). In the dense forests of Hebe Haven, a phalanx of birds roost and feed. Their sweet symphony can be heard along the paths that traverse the promontory, but it might take some patience to catch a glimpse of these lovely creatures.
Scenic Beauty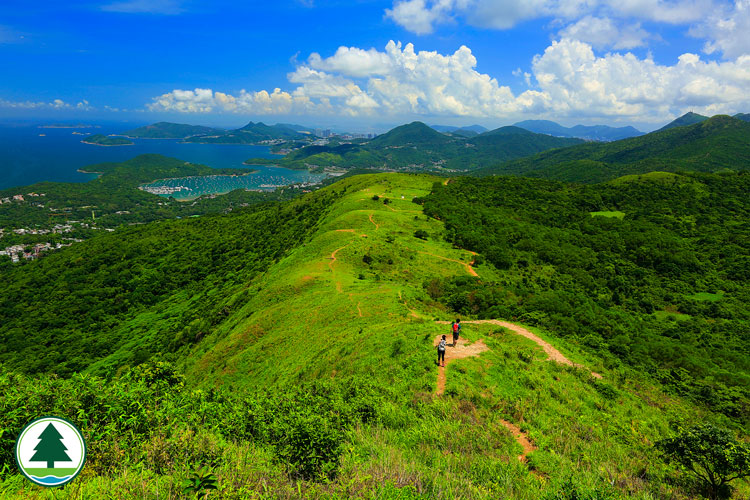 Pyramid Hill
The Ma On Shan Country Trail is a scenic route that leads from Ma On Shan Village to Tai Shui Tseng. The trail passes through the grassy Ngong Ping Plateau where you enjoy a sweeping view of Sai Kung Peninsula. This country trail sets off from a barbecue area with toilets and other facilities. Further up, it skirts around Ma On Shan Village and the old mine. Iron ore was a major product of Ma On Shan in the past. During the 1950's boom, more than 2,000 miners worked here. After closure of the pits in 1976, the mine was abandoned. Today, these former miners and their families live in Ma On Shan Village.
Continuing on, the trail crosses a hill stream. A side path on the right leads to Luk Chau Shan, famous for the Canoe Rock and other strange boulders. Keeping to the country trail, you soon arrive at Ngong Ping. Embraced by towering spurs, this picturesque spot offers a campsite. Ngong Ping is one of Hong Kong's few plateaus. Once the site of a large village, it has paddy fields on the fringes. There are wide open views of the coves and islands of Inner Port Shelter. Another unique feature of Ngong Ping is that it is one of the very few high points where the urban districts are totally out of sight. A rare quality indeed in a city as compact as Hong Kong.
Along the trail, the conical profile of Pyramid Hill, the 702 m Ma On Shan and the treacherous Tiu Shau Ngam emerge one by one in the north. To the east, Sai Kung Peninsula, Sharp Peak, High Island Reservoir, Kau Sai Chau and Sharp Island (Kiu Tsui) in Inner Port Shelter come clearly into view. Up ahead, the trail ends at Tai Shui Tseng in Sai Kung. This hike takes about 2 hours to complete.