Plover Cove
| | |
| --- | --- |
| Plover Cove Country Park and Plover Cove (Extension) Country Park | |
Overview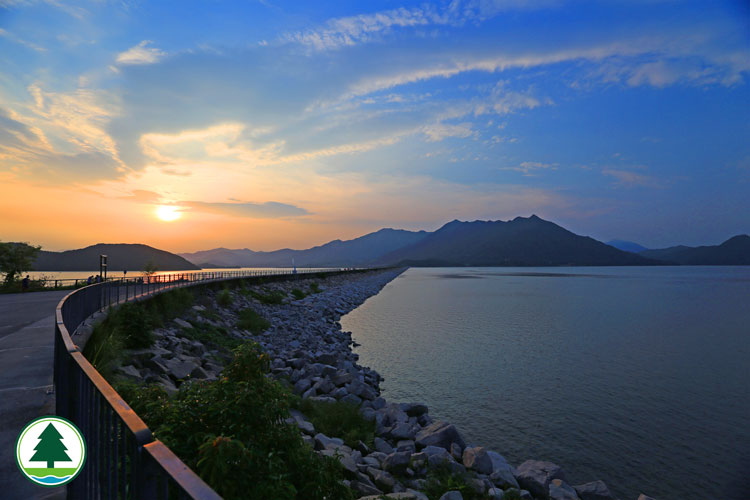 Sunset at Plover Cove Reservoir
Set in northeastern Hong Kong, Plover Cove Country Park was designated in 1978. A large park of 4,594 hectares, it encompasses contrasting landforms. Meeting the sea on three sides, the park features a range of undulating peaks in the central part. To its west lies Pat Sin Leng Country Park, notorious for dizzying, rugged uplands. Whether you choose to visit Plover Cove on a glorious summer day or in the spring drizzle, the landscape is equally arresting. Every way you turn, water colour scenery takes your breath away.
Bride's Pool is one of the most famous idyllic spots in Plover Cove Country Park. This woodside pool is 25m in diameter and about 2m deep. Here, a magnificent waterfall sets the scene. The atmosphere is so pristine, it seems almost celestial. What also makes Bride's Pool famous is a folk legend. It is said a bride was drowned here on her way to the wedding. Tragic yet hauntingly romantic, this little tale makes your imagination run wild.
In addition to Bride's Pool, Plover Cove Country Park has many other popular scenic spots : Mirror Pool and the manmade Plover Cove Reservoir. For those who enjoy hiking or walking, the park offers Bride's Pool Nature Trail, Tai Mei Tuk Family Walk and Ping Chau Country Trail.
The northern extension of Plover Cove Country Park was designated in 1979. This part of the park includes the Double Haven islets and Yan Chau Tong Marine Park, which harbours some of Hong Kong's most beautiful coasts. Ping Chau (Tung Ping Chau) in Mirs Bay is a treasure-trove of wildlife, while the three gems of Yan Chau, Pak Ka Chau and Pak Sha Tau Tsui lure you with their unique brand of charm. Also full of individual magic are Crooked Island, Crescent Island, Double Island, Yeung Chau and Port Island opposite Long Harbour and Tolo Channel (Chek Mun).
Major Attractions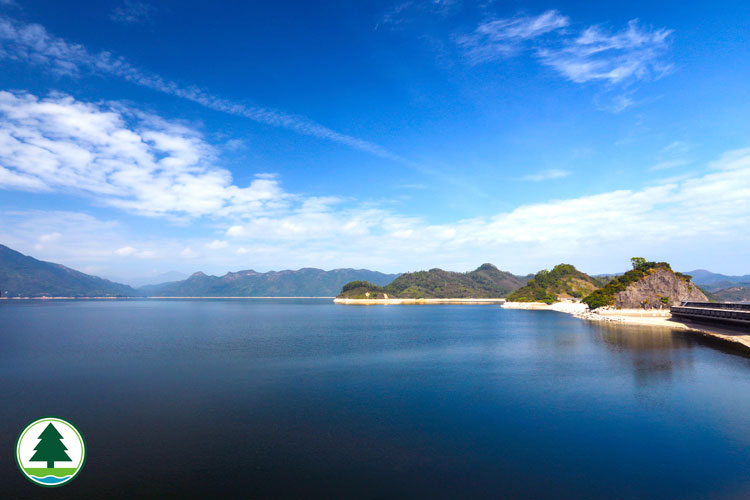 Plover Cove Reservoir
Plover Cove Reservoir, an impressive water storage facility inside Plover Cove Country Park, is renowned for its magnificent main dam. Measuring 6600 ft (or 2 km) in length and some 24 hectares in area, it is Hong Kong's longest dam and the greatest structure of its kind. It is also the world's first "reservoir in the ocean" and the second largest reservoir in the territory. This imposing dam is as tall as a 9-storey building, i.e. 28 metres. Water storage capacity is 230,000,000 m3, which equals to 230 billion bottles of 1 L beverage.
The construction of Plover Cove Reservoir was prompted by sharp population growth in the 1950's. The demand for water was pressing but there was no available land to build a new reservoir. While swimming in Plover Cove one day, former Director of Water Supplies Mr T.O. Morgan was struck by an idea to transform the bay into a reservoir. Work commenced in 1960, and the facility was completed thirteen years later.
Facilities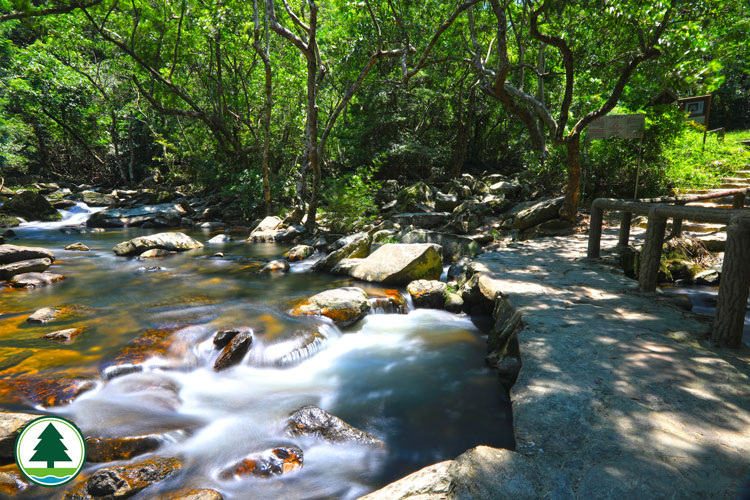 Bride's Pool Nature Trail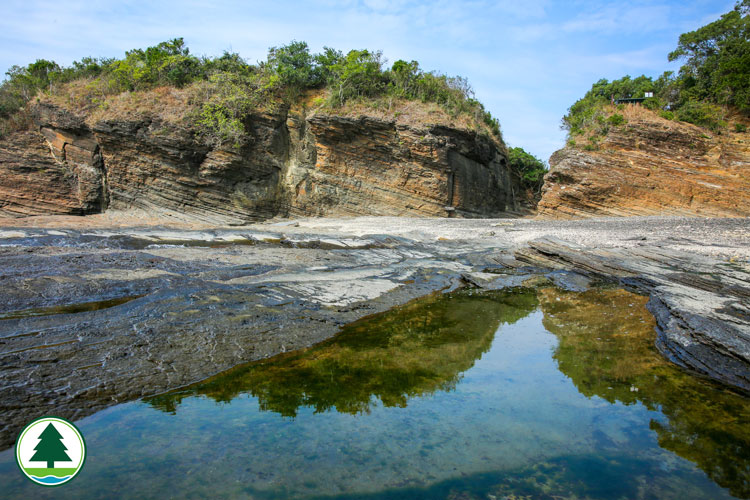 Cham Keng Chau
Plover Cove Country Park has a wide range of country and leisure facilities. Among these, the Tai Mei Tuk barbecue area is an all-time favourite. Convenient placed for public transport and within close distance of the Plover Cove Reservoir main dam, it is a popular destination. After all, nothing beats a hearty barbecue followed by a spectacular view of the dam.
In addition to a barbecue area, the park has several routes for hikers of different interests and fitness levels : the Bride's Pool Nature Trail, Tai Mei Tuk Family Walk, Wu Kau Tang Country Trail and Ping Chau Country Trail in Plover Cove (Extension) Country Park.
Bride's Pool Nature Trail near the outlet of Bride's Pool offers a delectable nature experience. The starting section is lined by trees on both sides. Along the way, there are sweet songs of birds and insects, as well as unique landforms. Further upstream, you find unusual potholes and the Bride's Pool cascade. The 6 km Ping Chau Country Trail, on the other hand, takes you to extraordinary rock formations like Cham Keng Chau, Lung Lok Shui and Kang Lau Shek, which is one of the best places to watch the sun set.

Ecological Highlights
The sheer size of Plover Cove Country Park makes it a haven for wildlife. Here in the park, you can find most of the wild animals occurring in Hong Kong, such as Chinese Porcupine (Hystrix brachyura), Chinese Pangolin (Manis pentadactyla) and Chinese Leopard Cat (Prionailurus bengalensis). Roosting in the woodlands are a great variety of forest birds. There have been records of Indian Cuckoo (Cuculus micropterus) and Red-winged Crested Cuckoo (Clamator coromandus) on Crooked Island and in Lai Chi Wo inside the park.
Butterflies are the most valuable ecological treasures of Plover Cove. For example, the rare Bi-spot Royal (Ancema ctesia) and Yellow Coster (Acraea issoria) were recorded in Plover Cove Country Park. The first record of Yellow Coster in Hong Kong was found in the Plover Cove Country Park. Wu Kau Tang and Lai Chi Wo inside the park are particular rich in butterflies.
Scenic Beauty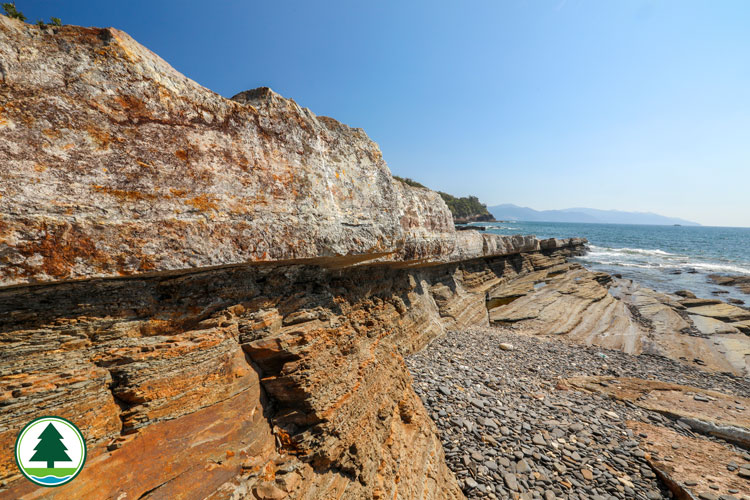 Lung Lok Shui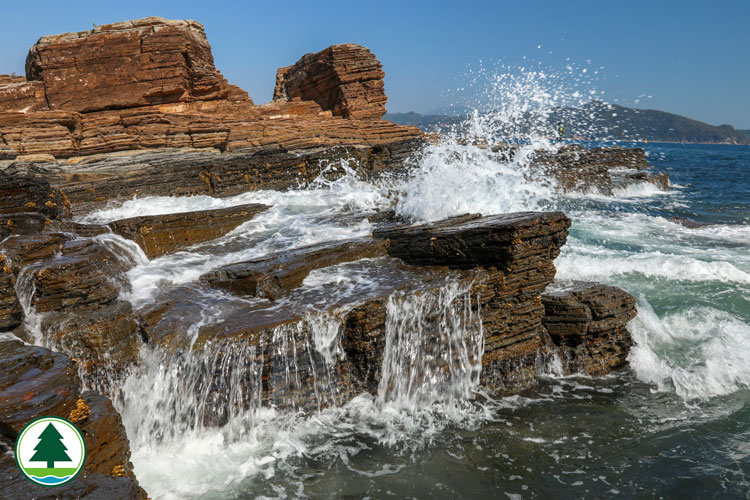 Kang Lau Shek
If you like extraordinary rock formations, head for Ping Chau. This place gives unique geographical characters sought after by lovers of natural landscape. Ping Chau, flat as the name implies, is home of the one-and-only stromatolite rock form in Hong Kong Ping Chau Formation. This sponge cake structure is the result of erosion, sedimentation and earth movement over long ages. The 200 m stratum is made up of 1-5 mm individual layers, and beddings are clearly distinguishable. As the rock weathers, an interplay of physical property and colour frequency results in more intense colour variations. In some parts, striking colourful bands are formed (Ping Chau Formation).
If the Ping Chau Formation bewilders you, be prepared for more awe-inspiring landforms that make you marvel at the greatness of nature. One example is Kang Lau Shek, a 7-8 m sea stack on a wave-cut platform at the southeastern tip of Ping Chau. These peculiar rocks are sculpted by incessant waves and wind. If you look at the two vertical rock pillars, you can see the shale joints.
At the southern end of the island you find Lan Kwo Shui. Here, a plunging escarpment lines the shore. Waves have cut out many caves on the rock. These caves are accessible from Kang Lau Shek only at the lowest tide when the sea is calm and the name Lan Kwo Shui reflects the tricky crossing. Off the coast of Ping Chau, in the southwest, there is a strange looking band of rock. Known as Lung Lok Shui, this long and triangular rock formation resembles the spine of a dragon entering the sea.