Sai Kung West
| | |
| --- | --- |
| Sai Kung West Country Park and Wan Tsai Extension | |
Overview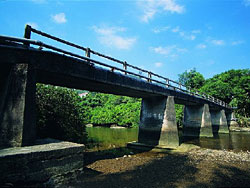 Pak Tam Chung
Designated in 1978, Sai Kung West Country Park occupies 3,000 hectares of wild country in the western part of Sai Kung Peninsula. Except for a few remote villages, the entire region that extends from Pak Tam Au to Yung Shue O is encompassed within the country park. Pak Sha O is the best preserved old village in the park. Original rural architectural features like relief murals and old-style decorated doorways can still be seen today.
Popular leisure destinations of Sai Kung West Country Park include Wong Chuk Wan, Tai Mong Tsai, Pak Tam Chung, Yung Shue O and Lai Chi Chong. Hoi Ha by the coast is where you find Hoi Ha Marine Park. This idyllic bay attracts many visitors on weekends and holidays. Also hot with holiday-makers is Cheung Sheung Plateau, a favourite of campers and hikers.
Sai Kung West Country Park (Wan Tsai Extension) was designated in 1996. This additional section is a 123-hectare peninsula at the northern tip of the park. Originally a borrow area, it was incorporated into the country park after borrowing ceased. The large camping facilities, with a mountain bike trail in the vicinity, are very popular with outdoor enthusiasts. Wan Tsai Extension is renowned for its picturesque natural setting and sweeping vistas of Grass Island, Ko Lau Wan and other coastal gems. Coffin Rock is the most famous local sight.
Major Attractions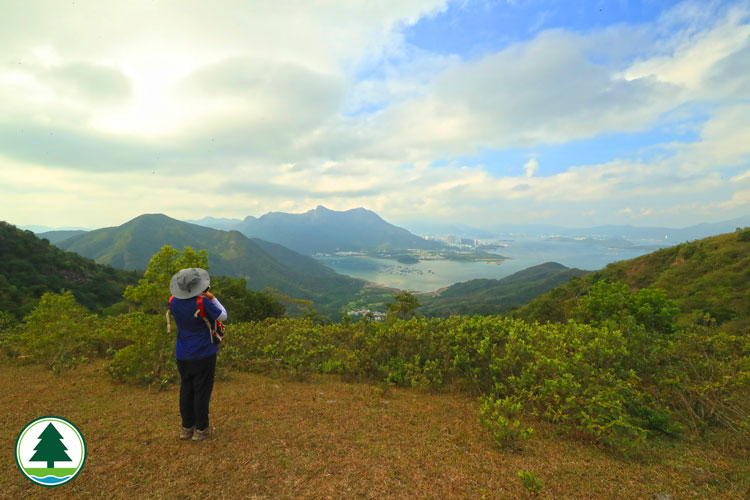 Overlooking Ma On Shan from Cheung Sheung Country Trail
Sai Kung West Country Park is a mountainous terrain with a series of undulating hills. In between arduous spurs you find the scenic Cheung Sheung Plateau. Sitting high above Three Fathoms Cove, it gives unobstructed views of the Sai Kung peaks and coasts. Indeed, the Cheung Sheung hill trail offers a most memorable hiking experience. The section extending to Yung Shue O is a long flight of dizzying steps. Known as Jacob's Ladder, it is one of Hong Kong's most challenging hikes.
To meet this challenge, take public transport to Hoi Ha Road and get off near Hau Tong Kai. Get on Cheung Sheung Country Trail which begins with a series of stone steps that wind up the slopes, and continues on to an abandoned Wong Chuk Long village and a grass flat nestled between rolling hills. On your right is the 481m Shek Uk Shan, the highest spur in Sai Kung. On your left are Ngam Tau Shan, Ngau Yee Shek Shan and the gentler Wa Mei Shan in the southeast. Further out, on the south and southwest sides of Wa Mei Shan, Lui Ta Shek and Kai Kung Shan rear up. This striking landscape is breathtaking. For as far as your gaze can reach, magnificent crests loom over the coastal lowlands.
The village of Cheung Sheung, disadvantaged by poor access, is almost abandoned with only one permanent household and a derelict village school. Beyond the old village you come to Au Mun where sweeping vistas await : immediately below lie Yung Shue O and Three Fathoms Cove; across the water majestic massifs of Ma On Shan and Pat Sin Leng tower over Tolo Harbour and Tolo Channel. After this scenic leg, the trail follows a seemingly endless flight of steps Jacob's Ladder. Descending some 300 metres, the steps take you all the way down to Yung Shue O which marks the end of the country trail.
Facilities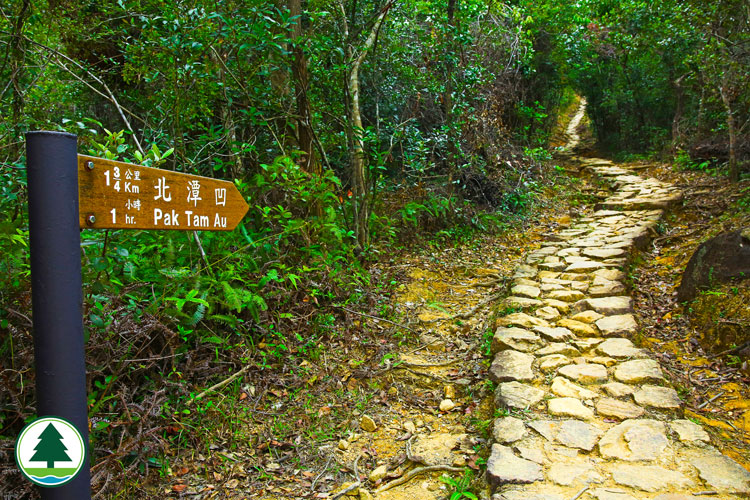 Pak Tam Chung Family Walk
Along Tai Mong Tsai Road, between Long Keng and Wong Chuk Wan, there are quite a few trailside barbecue sites. They are ideal for family and group activities. Similar facilities can also be found in Pak Tam Chung and Hoi Ha. In particular, the Pak Tam Chung Picnic Area has picnic and barbecue facilities for both ordinary visitors and the physically handicapped.
The Sai Kung Country Park Visitor Centre in Pak Tam Chung has a photo gallery featuring Sai Kung's natural environment, rural development, High Island Reservoir and country parks. There is also an audio visual room playing videos that highlight country park attractions and the concept of conservation, as well as the facilities and activities information.
Inside the park, you find hiking routes of varying difficulty levels. One of them is Section 3 of the MacLehose Trail which leads from Pak Tam Au to Shui Long Wo. This scenic route is challenging and physically demanding. The Tai Tan Country Trail is also a route for experienced hikers. It offers vistas of inshore seascape and landscape attractions like Tap Mun, Ko Lau Wan, Long Hill and To Kwa Peng, as well as an arresting view of Sharp Peak in the distance.
For a family day out, there are many easy hiking routes around the area : Pak Tam Chung Family Walk, Pak Tam Chung Tree Walk, Hoi Ha Nature Trail.
Ecological Highlights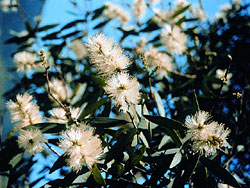 Paper-bark Tree
Many old rural settlements in Sai Kung West Country Park are fringed by fung shui woods. The fruit-bearing trees in these forests provide food to birds like Grey-streaked Flycatcher (Muscicapa griseisticta) and others, while the Night Heron (Nycticorax nycticorax) are often seen preying on waterside. Other common bird species are Japanese Quail (Coturnix japonica), Emerald Dove (Chalcophaps indica), Broad-billed Roller (Eurystomus orientalis), Red-winged Crested Cuckoo (Clamator coromandus), Large Hawk Cuckoo (Cuculus sparverioides), Grey Nightjar (Caprimulgus indicus), Great Barbet (Megalaima virens), Hair-crested Drongo (Dicrurus hottentottus) and Grey Treepie (Dendrocitta formosae). The West Sai Kung region is also home to many amphibians, such as Three-striped Grass Frog (Rana macrodactyla), Brown Wood Frog (Rana latouchii), Green Cascade Frog (Rana livida) and Asian Common Toad (Bufo melanostictus). Mammals living here are seldom spotted, as they are mostly nocturnal species like Chinese Pangolin (Manis pentadactyla), Masked Palm Civet (Paguma larvata), Leopard Cat (Prionailurus bengalensis), East Asian Porcupine (Hystrix brachyura) and Eurasian Wild Pig (Sus scrofa).
Fung shui woods and natural forests are found mainly behind villages or in valleys. The local vegetation is extremely rich in native trees like Chinese Tallow Tree (Sapium sebiferum), Machilus species, Fragrant Litsea (Litsea cubeba), Lance-leaved Sterculia (Sterculia lanceolata) and Ivy Tree (Schefflera heptaphylla). The shores along Tai Mong Tsai Road and Yung Shue O are fringed with profuse mangrove beds.
Sai Kung West Country Park (Wan Tsai Extension) was once a borrow area. After borrowing came to an end, a large scale reforestation programme was launched to green the countryside. Taiwan Acacia (Acacia confusa), Horsetail Tree (Casuarina equisetifolia) and Slash Pine (Pinus elliottii) were some of the plantation species used in the early years. Together with native shrubs like Myrobalan (Phyllanthus emblica), Rose Myrtle (Rhodomyrtus tomentosa) and Dwarf Mountain Pine (Baeckea frutescens), they created an opulent flora composition. Later, to complement the designation of Wan Tsai as a country park extension, additional afforestation species like Paper-bark Tree (Melaleuca quinquenervia), Brisbane Box (Lophostemon confertus), Hong Kong Gordonia (Gordonia axillaris) and Ivy Tree (Schefflera heptaphylla) were planted to enrich the local forests. Today, Wan Tsai Peninsula is a picturesque green sanctuary.
The woodland habitats of Wan Tsai support a wide range of fauna, including East Asian Porcupine, Chinese Pangolin and Masked Palm Civet, while Domestic Oxen (Bos taurus) are commonly seen grazing and rambling nearby. Birds occurring here are Chinese Francolin (Francolinus pintadeanus), Lesser Coucal (Centropus bengalensis), Pacific Swift (Apus pacificus), House Swift (Apus affinis), White-breasted Kingfisher (Halcyon smyrnensis), Barn Swallow (Hirundo rustica), Richard's Pipit (Anthus richardi), Rufous-backed Shrike (Lanius schach) and Hwamei (Garrulax canorus).
Scenic Beauty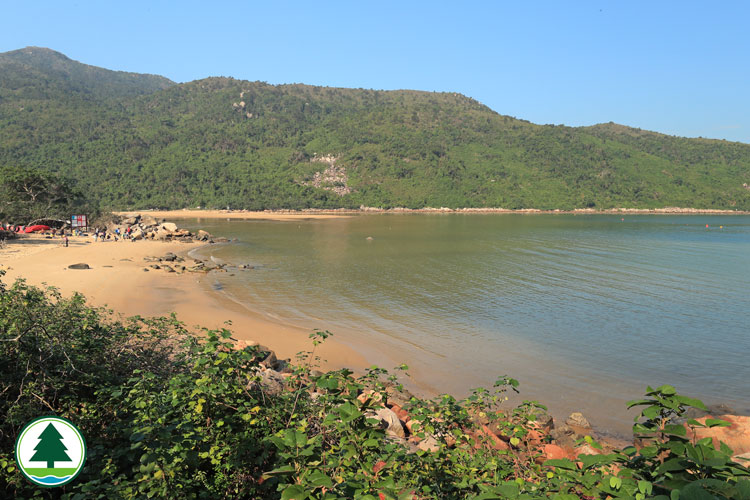 Hoi Ha Wan
Long Harbour
Tucked away in a remote corner of Hong Kong, Sai Kung West Country Park (Wan Tsai Extension) is a pleasure to explore. Here, you can enjoy breathtaking coastal scenery and see extraordinary rock formations. To get to Wan Tsai by road, take public transport to Hoi Ha Village where you can visit relics of ancient lime kilns and Hoi Ha Marine Life Centre enroute. Hoi Ha Wan Marine Park is a sheltered bay harbouring more than 60 coral species, or nearly 70% of Hong Kong's total, and about 120 coral fishes. This colourful underwater garden is visited by many scuba divers and snorkellers. After enjoying Hoi Ha, proceed to Wan Tsai Extension from Lan Lo Au.
There was an old vehicular road built in the borrowing days at Sai Kung West Country Park (Wan Tsai Extension). Visitors can take this circular route to explore the peninsula. Along the way is Coffin Rock, a famous attraction that lives up to its name. Further up, the trail heads for the coast, with some sections running along plummeting cliffs where waves and sprays dash high on the rock face. Tai Leng Tun, the highest point of Wan Tsai Peninsula overlooking Hoi Ha Wan, is a perfect place to appreciate the natural grandeur of Sai Kung. The emerald sweep of Long Harbour promises to enchant, while Tap Mun in the northeastern entices thoughts of adventure. In the distant southeast, a conical profile stands out Sharp Peak in Sai Kung East Country Park.
The Wan Tsai Peninsula South Campsite and West Campsite have 10 and 20 tent spaces respectively. Also available are public toilets and showers for both ordinary visitors and the physically handicapped. These campsites are ideal venues for large group activities. The small pier next to the South Campsite has a scheduled kaido service to Wong Shek Pier. If you prefer to travel by sea, this ferry is a good alternative.