Tai Lam
| | |
| --- | --- |
| Tai Lam Country Park | |
Overview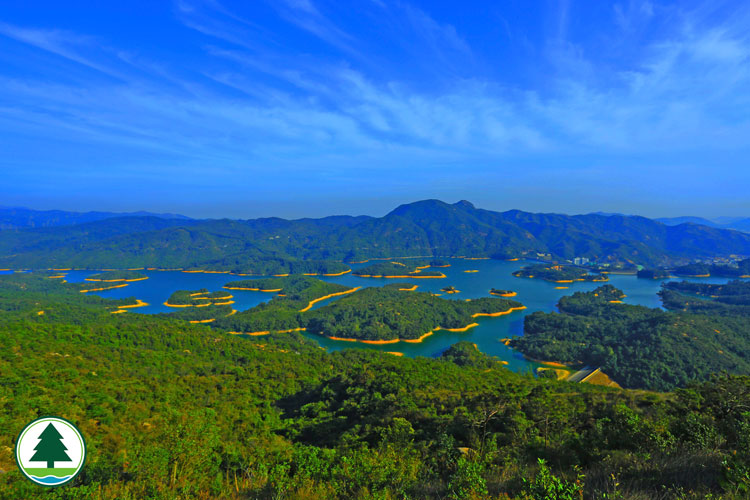 Thousand-Island Lake
Occupying 5,412 hectares of sylvan grounds in the Western New Territories, Tai Lam Country Park is the second largest country park in Hong Kong. Designated in 1979, it encompasses a vast area extending from Tsuen Wan to Tuen Mun. The boundaries lie along Route Twisk in the east; the countryside north of Tuen Mun Highway in the south; Shek Kong, the Ho Pui Catchments and Tai Tong in the north; and Tuen Mun and Lam Tei Reservoir in the west.
Except for a small band of porphyry in the northeastern corner, Tai Lam Country Park is largely granite which is vulnerable to erosion and bears clear signs of degradation. In the past, tungsten and other ores were mined in Lin Fa Shan near Route Twisk. Production ceased after the war as ore prices dropped, but old mines have remained to this day. Scattered in these hills are abandoned pits, evoking memories of a boom time long gone.
Tai Lam Chung Reservoir inside the Tai Lam Country Park was the first water storage facility built after the war. Commenced in 1951, this monumental project included the major task of constructing a main dam. The magnificent enclosure was the most impressing concrete structure in Hong Kong at the time. Towering 150 ft above the lake, it boasts pipelines that cover the entire Kowloon Peninsula to link up with the territory-wide water supply network.
Major Attractions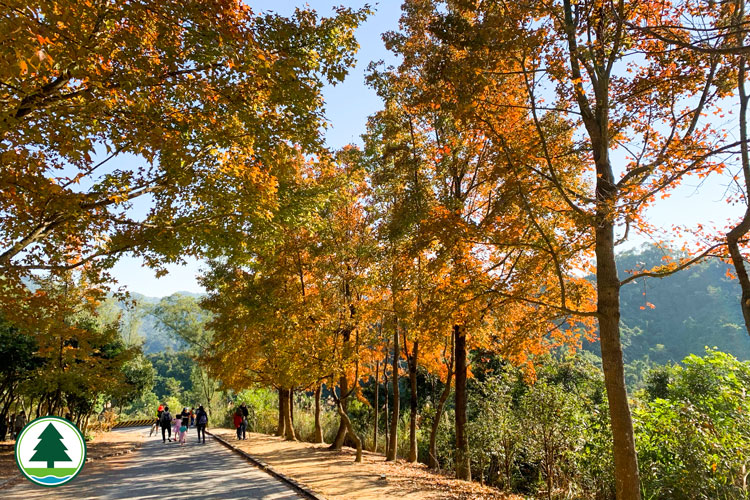 Tai Tong Sweet Gum Woods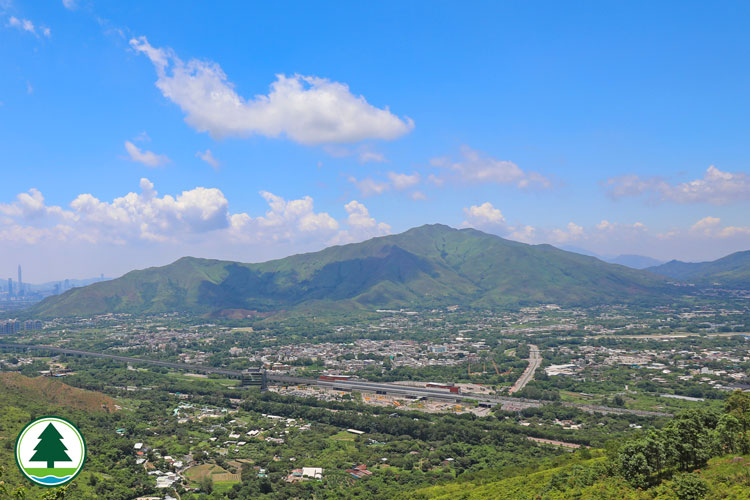 Overlooking Kam Tin & Kai Kung Leng from Tai Lam Chung Country Trail
Tai Lam is the second largest country park in Hong Kong, ranking just after the most expansive Lantau South Country Park. When it comes to hiking routes, however, no other park comes close. There are twelve trails within the boundaries of Tai Lam Country Park, including the well trodden Section 9 and Section 10 of MacLehose Trail. This is also where the MacLehose Trail ends. This famous long-distant trail gives vistas of verdant plantations and Tai Lam Chung Reservoir.
Two other popular hiking routes are Kap Lung Forest Trail and Kap Lung Ancient Trail which lead from Tsuen Kam Au to Shek Kong. Passing through diverse woodlands, these trails introduce you to the wonderful world of forest ecology. Also worth exploring are easy family routes like the Twisk Nature Trail, Tai Lam Nature Trail, Tai Tong Nature Trail, Tai Tong Tree Walk and Ho Pui Reservoir Family Walk. For the fit and energetic, check out the Yuen Tsuen Ancient Trail, Tai Lam Chung Country Trail and Yuen Tun Country Trail. On the western edge of Tai Lam Country Park, you find the Tuen Mun Fitness Trail which features 14 fitness stations for hikers and morning walkers.
Facilities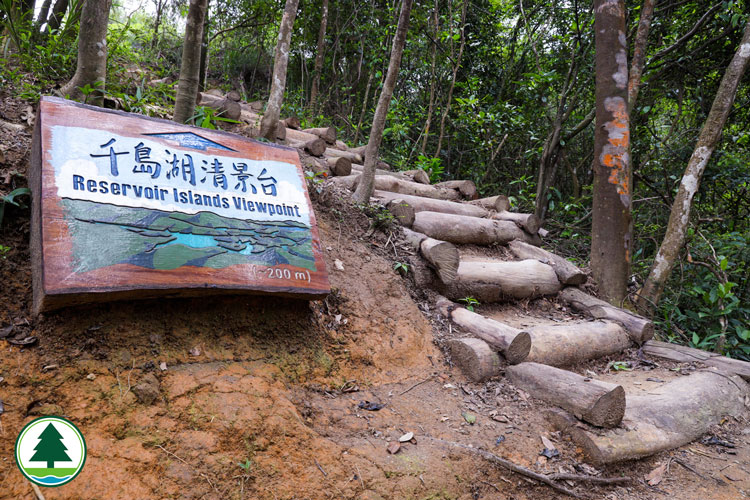 Reservoir Islands Viewpoint
Only a stone's throw away from Tuen Mun and Sham Tseng, Tai Lam Country Park is a hot destination for hikers and picnickers. There are barbecue areas in the Kap Lung and Ho Pui catchments, Tai Tong Shan Road and Tuen Mun which Section 10 of MacLehose Trail traverses. Among these, the most sizeable Tai Tong Shan Road and Shek Kong Barbecue Area is the local schools' favourite field trip destination. If camping is your thing, you will find campsites in Tin Fu Tsai, Ho Pui and Tsuen Kam Au. There are mountain bike trails, mountain bike practice loop and training ground in Tai Lam Country Park for mountain biking activities.
Ecological Highlights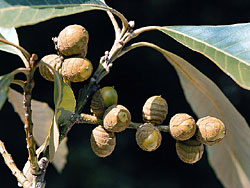 Castanopsis
Only a few decades ago, Tai Lam Country Park was a barren domain with scanty vegetation. Badly eroded by rain, the region is characterized by denuded hilltops and ravines. Soon after the completion of Tai Lam Chung Reservoir, afforestation began in 1952 to protect the catchwaters from erosion and soil loss.
Against adversities like poor soil and frequent hillfires, plants gradually established themselves in the park. Thanks to years of dedicated work of afforestation experts, the lush vegetation we see today slowly emerged. Today, species like Taiwan Acacia (Acacia confusa), Brisbane Box (Lophostemon confertus), Chinese Red Pine (Pinus massoniana), Slash Pine (Pinus elliottii) and Swamp Mahogany (Eucalyptus robusta) have colonized most parts of the park, while native trees, such as Oak and Machilus species and Castanopsis (Castanopsis fissa), are given a chance to regenerate in a significant scale. The result is a flora composition of much greater diversity.
Profuse forests provide habitats for all types of animals : various bird species, Chinese Pangolin (Manis pentadactyla), Leopard Cat (Prionailurus bengalensis) and Red Muntjac (Muntiacus muntjak). Sharing these woodlands are amphibians like the Green Cascade Frog (Rana chloronota), Asiatic Painted Frog (Kaloula pulchra pulchra), Butler's Pigmy Frog (Microhyla butleri), Ornate Pigmy Frog (Microhyla fissipes), Asian Common Toad (Bufo melanostictus) and Hong Kong Cascade Frog (Amolops hongkongensis), as well as reptiles like the Bicoloured Stream Snake (Opisthotropis lateralis), Chinese Cobra (Naja atra), Garnot's Gecko (Hemidactylus garnotii), Reeve's Smooth skink (Scincella reevesii) and Chinese Waterside Skink (Tropidophorus sinicus). In local rivers and streams, freshwater fish species like Opsariichthys bidens and Rice fish (Oryzias curvinotus) are common.
Scenic Beauty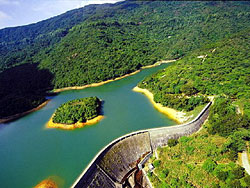 Ho Pui Reservoir
The idyllic waterscapes of Tai Lam Country Park are made up of 7 reservoirs and settlement basins. The largest lake is Tai Lam Chung Reservoir, followed by Ho Pui Reservoir. For a scenic route that skirts the emerald waters of both reservoirs, get on Section 9 and Section 10 of MacLehose Trail. Passing through placid lakes and undulating slopes, the trail offers a kaleidoscope of enthralling vistas. Both sections are easy routes, taking 2.5 hours and 5 hours to complete respectively.
Section 9 of MacLehose Trail starts at Tsuen Kam Au by Route Twisk, and proceeds to the southwestern peaks. On your right, tucked deep in the valley, is Ho Pui Reservoir which was voted one of the top ten sights of Hong Kong. Continuing west, the trail crosses dense plantations to arrive at Tin Fu Tsai starting point of Section 10.
Section 10 is the longest section of the entire trail. Making a start at Tin Fu Tsai, the trail cuts through a narrow gorge via Kat Hing Bridge, before meandering along the north bank of Tai Lam Chung Reservoir. Up on the dam, there is a clear view of the celebrated lake islets. Like gems on satin, they are what draw visitors in their thousands to Tai Lam Chung. Hikers have nicknamed this famous sight the Thousand-Island Lake. Beyond the reservoir, the trail follows a wooded path that skirts the north embankment, and then joins a vehicular road beside the catchwater. The trail ends at Tuen Mun.