Conserving The Rare And Endangered Flora
Efforts on flora conservation are concentrated on the rare and endangered plant species. Once they have been identified, they are conserved mainly through the following approaches.
Under the Forests and Countryside Ordinance, Chapter 96, damaging plant in any forest or plantation on Government land is prohibited.
Iris speculatrix

Some rare and attractive species that are subject to exploitation are specifically listed in the Forestry Regulations, a subsidiary legislation of Chapter 96, which further controls the sale and possession of the listed species.
Back to Top
Designation of Country Parks, Special Areas and Sites of Special Scientific Interests (SSSIs) have been adopted by which habitat protection for rare and endangered plants can be achieved.

The existing Country Parks and Special Areas, with about 40% of the land area of the region, cover most of the Hong Kong remaining green hillsides and wooded valleys and play an important role in flora conservation. Habitats of a number of rare plant species are located within Country Parks and Special Areas under statutory protection.  

A number of Sites of Special Scientific Interest (SSSIs) were listed for their floristic importance. Some of the species present are rare or precious plants and/or protected under the Forests and Countryside Ordinance (Cap.96). AFCD is consulted for proposed developments at or in the proximity to SSSIs.
Various methods such as seed collection, cutting, air-layering, etc, have been attempted to propagate rare plants. Transplantation may also be carried out if their habitats are found to be under threat.



Keteleeria fortunei

Successful examples of active propagation include Keteleeria fortunei, Camellia crapnelliana and Camellia granthamiana. Seeds of these species have been collected in the field and seedlings raised in nursery. The seedlings have then been re-planted to the wild and populations successfully established.
Back to Top
A base for flora conservation has been established in the Shing Mun Arboretum. About 300 species of native plants representative of Hong Kong and South China have been propagated and established there for conservation and education purposes.
The Greenhouse of Field Investigation Unit (FIU) at Tai Tong Nursery provided an excellent environment for conservation of rare and precious plants. The Greenhouse is equipped with automatic misting, temperature and humidity control system as well as environmental growth chambers and seed depository. More than 100 species, especially the more fragile species and orchids have been conserved.
Incense Tree Species Action Plan (SAP) 2018-2022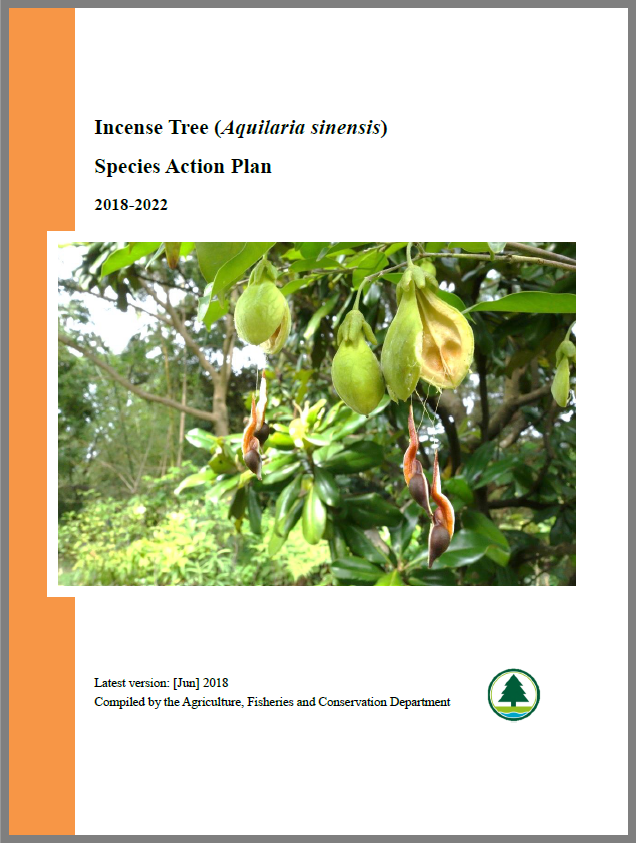 The strong monetary incentive for illegal harvesting agarwood has led to a sharp decline in the wild population of large Incense Tree in Southern China.
AFCD has devised the Incense Tree SAP to provide a pragmatic framework of conservation measures to achieve the long-term viability and sustainability of the local Incense Tree populations. The recommended actions will be undertaken through collaborations among the government's conservation authority, enforcement agencies, academic institutions, NGOs and local communities. The actions are to be taken from 2018 to 2022, and will be reviewed and refined over consecutive five-year plans. 
To download the SAP in PDF format: